The Nintendo Labo Vehicle Kit Lets You Build Your Own 'Mario Kart' Steering Wheel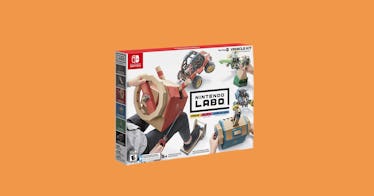 Nintendo has spent the past decade plus redefining how people play video games. The Wii foregrounded motion controllers while the Switch erased the line between mobile- and console-based gaming. Nintendo Labo, a line of DIY cardboard accessories for the Switch, was a natural continuation of this trend. The original sets, released in April, allowed users to put their Joy-Con controllers into cardboard pianos, fishing rods, and robots, creating new ways to play. With the soon-to-be-released Vehicle Kit, the Labo line is coming to one of Nintendo's biggest franchises: Mario Kart.
Like previous Labo kits, the Vehicle Kit comes as a bunch of sheets of cardboard, some stickers, string, grommets, and rubber bands. Following the instructions on the included software, kids pop out pre-cut pieces from the sheets and fold them into pieces that attach to Joy-Con controllers and come together as a submarine controller, a plane-style joystick, a pedal, a steering wheel, and a key.
The Labo software includes basic games that use each of these new accessories, but let's be honest: you really want to use these in the recently released Mario Kart 8 Deluxe.
To play Mario Kart with the Labo, one simply inserts the blue Joy-Con controller into the pedal and the red Joy-Con controller into the key accessory. Then, slide the key into the center of the steering wheel and you're ready to play.
After that, it's pretty similar to driving a car. Press down on the pedal to accelerate and turn with the steering wheel. To fire a shell or lightning bolt, press the button center of the wheel (where the Labo key is and the horn would be on a real car).
You can use the Labo to play with you Switch using its included screen (which fits into the included screen stand) or when its connected to the big screen. Either way, it's a more realistic experience that might just do the impossible: make Mario Kart even more fun.