Ninja Ghostbusters Fuse Ninja Turtles and Ghostbusters Because Why Not?
Peter Venkman is Michelangelo, of course.
by Dave Baldwin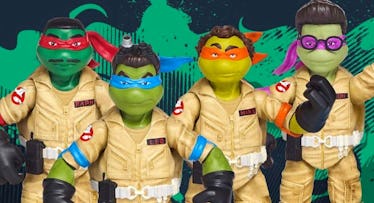 Nickelodeon
Three years ago, IDW Publishing stole a page out the Law & Order playbook. The company released a four-part crossover comic in which the Ghostbusters joined forces with the Teenage Mutant Ninja Turtles to battle "weird threats" in New York City. This week at Comic-Con, the company announced that a five-issue run of the sequel, Teenage Mutant Ninja Turtles / Ghostbusters 2 will arrive weekly in November. The best part of the announcement, however, is that Playmates Toys is unveiling an accompanying line of action figures ⏤ the original Ghostbusters as heroes in the half shell.
The figures, known as Ninja Ghostbusters (nice!) fuse Egon Spengler with Donatello, Peter Venkman with Michelangelo, Winston Zeddemore with Raphael, and Ray Stantz as Leonardo. Those make sense, although Ray as Leonardo? Ehhhh. But they honestly look pretty rad. Ninja Ghostbusters and are due to hit Target shelves in early November. They'll come with all the appropriate weapons and accessories kids need to create their own Ninja Turtle ghost-fighting adventures. We're guessing they'll still celebrate their paranormal victories with a few pizzas. Cowabunga?
This article was originally published on