All Your New vs. Used Baby Gear Questions, Answered
Raising a kid is expensive. This list will help you know when you have to pay full price and when you don't.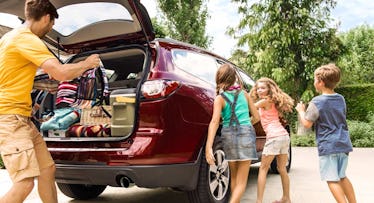 The following was produced in partnership with the Chevrolet, Buick, and GMC Certified Pre-Owned (CPO) program.
Parents buy a lot of stuff. That's just part of the unwritten deal you sign when you decide to have a kid. What the deal doesn't stipulate, however, is how much of that stuff has to be used versus new. Logically speaking, a child will never know whether an item was new, previously owned, or borrowed — if they remember it at all. And one isn't necessarily better than the other. But when you're on the hook for $200,000 over the next 17 years (sorry, should've warned you that was coming), it's just smart to know when to go all-in on the shiny new box and when to save a few bucks on the gently used version. Here are our recommendations for a few key items on every new parent's list.
Stroller
You should buy it: NewWhy? Strollers get recalled much more frequently than you might imagine over new safety issues; you're better off knowing that your kid's day-to-day ride is the latest version. Plus, odds are good that the friend or online classified seller offering their old stroller put plenty of miles on it. At the very least, they weren't gentle about folding it. And their kid's diaper definitely exploded all over that comfy padded seat at least once.
Car
You should buy it: Certified Pre-OwnedWhy? Between your new precious cargo and all the stuff that comes along with them, you're going to want a bigger car. You're also going to have enough to worry about, so when a new vehicle just isn't in the cards, a Certified Pre-Owned vehicle is a great way to save money and achieve added peace of mind. Chevrolet, Buick, and GMC CPO vehicles include a 6-Year/100,000-Mile Powertrain Limited Warranty1 (Six years or 100,000 miles from new vehicle delivery, whichever comes first), 12-month/12,000-mile bumper-to-bumper limited warranty2, and two scheduled maintenance visits. Since CPO programs can change and may vary by brand, it's a good idea to ask your dealer for details.
Swing/Bouncer
You should buy it: UsedWhy? Baby swings and bouncers have an uncanny ability to soothe screaming kids to sleep, making them an undeniable necessity in the early sleepless months. But the fact remains that babies outgrow them immediately after the early sleepless months. The investment in a new one isn't quite worth the return. Almost, but not quite.
Car Seat
You should buy it: NewWhy? It could save your kid's life. And the best way to check that it's undamaged before you strap a baby in is to rip open the tape and unbox it yourself. Plus, vehicle and car seat requirements and child passenger safety regulations can change; buying new helps ensure your kid's seat meets all current standards. And every parent must determine the proper car seat for their child's age, weight, and height. Fortunately, many car seat systems adjust and grow with the child, so you don't have to buy a brand new one every time they get a little bigger.
Books
You should buy them: UsedWhy? Reading is an adorable, fun, and developmentally vital parent-child activity but, at least in the early stages, babies are far more interested in their books' pulpy paper flavor than plotlines. Besides, people will buy you enough new books. If you're paying for them yourself, used is fine. Used book stores are the best anyway.
Crib
You should buy it: NewWhy? Remember when the mattress salesman gave you the old, "You spend more than a third of your life sleeping, why skimp?" This is that for your kid. And, as with strollers and car seats, recalls and ever-changing regulations make buying a previously owned crib too risky. Finally, a new crib is hard enough to assemble or reconfigure with all instructions and hardware on hand. Doing that with missing pieces and no manual involves more duct tape than even you want to deal with.
High Chair
You should buy it: UsedWhy? Another necessary but quickly outgrown item. If it's clean and keeps your baby held in place for feedings, it doesn't have to be fresh out of the box.
Clothes
You should buy it: Your callWhy? Used onesies are cheaper if not free (hello, hand-me-downs!) but could be stretched out and will have long ago lost their new baby smell. New onesies are clean and fit perfectly but cost way more than they're worth at marked-up baby stores. Both get outgrown almost instantly — assuming they don't get blown out after one wearing. Best bet is probably to split the difference. If something's so adorable you just have to have it, or you have to commemorate your squad winning the championship, cop those fresh threads. The rest can be previously worn.
Play Mat
You should buy it: UsedWhy? You want a play mat because the only alternative to laying your baby on one for a few minutes here and there is holding them all day every day. But much like many of the items on this list, you won't get any use out of it beyond the end of year one. Get a lightly used one and watch with glee as they attempt to bat at the floating shapes and fail to roll over.
Toys
You should buy them: UsedWhy? As long as they aren't yet able to use their words to demand a particularly coveted toy, a baby won't know whether that knobby, rattly, jangly thing is brand new or was previously played with by their cousin. All they care about is whether they can try to put it in their mouth.
1See participating dealer for limited warranty details.
2Whichever comes first, in addition to any remaining original factory Bumper-to-Bumper warranty. See participating dealer for limited warranty details.
This article was originally published on