There's Something Weird About Mario Holding A Gun
Honestly, it's pretty strange.
by Brad Weekes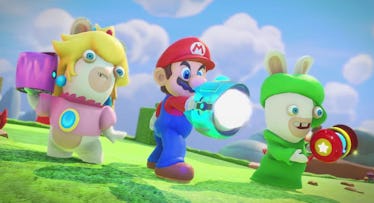 Yesterday, at the Electronic Entertainment Expo (E3) in San Diego, Nintendo announced the latest adventure of its Koopa-punching paisan: Mario+Rabbids Kingdom Battle. A turn-based strategy in the style of XComm or Worms, the Nintendo Switch title sees Mario and his friends pairing with Ubisoft's Rabbids, a group of Minion-like buck-toothed bunnies, for battle. While Mario is no stranger to fighting— in nearly all of his more than 150 titles, he uses at least some combination of his feet, fireballs, or surprisingly dense noggin to destroy enemies — the trailer shows an odd change: Mario has traded his trusty plunger for what appears to be a plasma gun.
Now, I don't know about you, but there's something unsettling about seeing Mario, a worldwide symbol of family-friendly gaming, with his hand on the trigger. Mario's no saint: He de-wings Koopas, pushes Bowser into lava pits, and has caused countless collisions on Rainbow Road. Adventures require him to attack enemies frequently, but he doesn't shoot grenade launchers like some grunt from Gears of War. Kingdom Battle is a tactical game and, by nature, those deal with combat. And while Mario's not wielding an assault rifle, it's just strange to see his iconic white gloves wrapped around such a weapon. It's like hearing Tom Hanks drop an F bomb.
Interestingly enough, according to a 2010 interview with co-creator Shigeru Miyamoto, Mario was originally designed with a gun in hand and the A button was meant to for shooting bullets. Furthermore, Miyamoto said he even envisioned the game having a "shoot em' up stage". Eventually, this earlier iteration of Mario was struck down, as creators decided to only have the character throw fireballs instead.
We'll have to wait and see what Mario+Rabbids Kingdom Battle brings when it's released next August. It'll most likely be a fun, cartoonish take on tactical games – a turn-based spin on Super Smash Bros. And, giving Nintendo's track record, it'll be great fun. But, in the future, we hope Mario keeps his gun holstered.