This New Toy Lets Kids Build (and Code) Their Own Instruments
littleBits' latest helps kids create some tasty licks.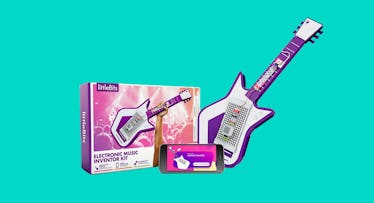 There are a ton of different STEM toys on the market, but not as many STEAM toys that throw artistic concepts into the mix. Exploring the arts can improve critical thinking, but beyond that it's just part of a well-rounded, happy childhood. littleBits has released several STEAM-focused toys in the past, and the company is back with the littleBits Electronic Music Inventor Kit, which lets kids build and play their own electronic instruments.
As with all toys from littleBits, the Electronic Music Inventor Kit centers around a number of "bits" — electronic components that kids assemble and write programs for. The ones in this kit include an accelerometer, micro sequencer, power module, speaker, wire, oscillator, proximity sensor, and keyboard (piano, not QWERTY).
These components, plus a battery, mounting board, fasteners, and a sheet of stickers (because everyone loves stickers), can be assembled and reassembled into four different instruments. There's a keytar, played by simply pressing the keys on the keyboard (and comes in handy for 80s riffs); a dance guitar, which uses the accelerometer to modify sounds depending on how you move the instrument; a magic guitar, which subs in the proximity sensor so kids can play their instrument without even touching it; and finally, the air drum, which uses the same sensor to a more percussive effect.
One of the coolest things about littleBits is the cross-compatibility of different sets. You can incorporate components from the music inventor kit into other littleBits creations (and vice-versa), adding another avenue for creativity and further opportunities to practice coding skills.
It won't turn your kids into the next Grace Hopper or Jimi Hendrix, but the $100 littleBits Electronic Music Inventor Kit isn't a bad way to simultaneously get them excited about computer science and music.
This article was originally published on