5 New Strollers We Absolutely Love
Each offers something different but has a number of unique characteristics — from portability to comfort — that help make pushing your child less of a chore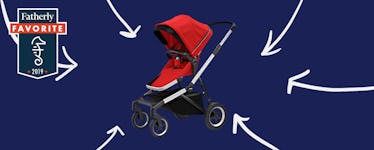 There are an ungodly number of strollers available. Aisles upon aisles of new compact, double, travel, and jogging models. The good news is that, within every new year there are some standout options. This year is no different, with excellent options from a variety of old favorites and newcomers. And while there are many, many excellent choices, these five strollers are some of our Fatherly Favorites. Why? Each has a number of unique characteristics — from portability to comfort — that help make pushing your child less of a chore. Take a look. We're sure there's an option here for you.
Maxi Costi Lila Stroller
Developed by pediatricians, this modular stroller features a custom inlay that helps to reduce pressure under your baby's head, which provides a feeling of comfy, cushioned calmness. The ergonomic memory foam also lifts the legs into a natural position, which helps to reduce reflux. It features a one-hand compact fold mechanism, and three-position reclining seat that can switch from forward to backward in a snap. The linked rear-wheel parking break, and SPF 50+ canopy round out this badass buggy's list of sterling safety features.
Delta Children The Clutch Stroller
Maybe it takes a furniture company to make an eminently packable stroller. If so, Delta Children did it with its Clutch Stroller. Tipping the scales at 11.7 pounds, it's feather-light compared to others its size, and unless you see it folded up, it's hard to imagine something so robust collapsing into a six-by-15-by-20-inch package. Whether you're headed across or out of town, smaller is clearly better.
Thule Sleek
Bigger is better with Thule's new Sleek stroller. Whether you've got one child or two, the unit's system can be configured and reconfigured based on a host of preferences. Three reclining positions, front- or back-facing options, and a separate bassinet allow you to keep this stroller from birth through years to come. Large puncture-proof wheels with independent suspension can handle all kinds of terrain (a nod to the company's off-road excellence) while UPF-50 shield fabric keeps them safe from the sun.
Bob Revolution 3.0 Flex Jogging Stroller
This upgraded model has more seat padding for your child, a larger under-seat basket, reflective strips, and a quiet-close chat window. Mountain bike-style suspension and air-filled tires make the ride soft for your little one, and a nine-position adjustable handlebar fits parents of all heights. The front wheel can be locked for stability while jogging, and a tracking-adjustment knob keeps the stroller headed straight while that wheel is in the locked position.
Silver Cross Jet Ultra Compact Stroller
Ultra-lightweight, compact travel stroller that collapses down small enough to be stored in the overhead bin of an airplane. When collapsed the belly bar becomes a luggage handle so it can be wheeled around like a small suitcase. It has lockable front wheels with a spring suspension, and it can accommodate multiple brands of car seats. Weighs only 13 pounds.
This article was originally published on