This New $25 Racer Is Basically a Remote-Controlled 'Tron' Cycle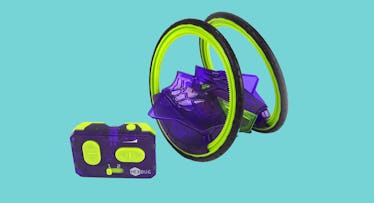 Remote-controlled toys will never not be awesome. There's something about a vehicle that does whatever you tell it to do that's particularly invigorating when you're a kid, a time in life where you don't have control over much. Also: they do tricks and stuff. But most remote controlled toys are pretty standard cars or trucks. That is not the case with Hex Bug's new Ring Racer. One of the coolest toys we've seen in a while, it looks like something straight out of Tron.
The Ring Racer is a cylindrical robot with two skinny wheels connected to an electric motor in the middle, a design that's equally eye-catching as it is functional, as it allows the racers to self-stabilize. In other words, if it falls on its side all you have to do is hit the accelerator and the racer will automatically right itself. This feature fixes the most annoying part of remote-controlled toys, having to stoop over to reset them.
The unique design also allows the toys to do bust out more tricks: these things can move forward and backwards, yes, but they can also bounce, flip, and perform a number of fun stunts. In addition to standard controls, the small infrared remote you use to control the racer also has a turbo button that bumps up the speed for higher jumps and more extreme tricks. There's a lot of opportunity for creativity; Hexbug also sells a kit that includes ramp — basically a skatepark for the palm-sized tricksters.
The Ring Racer comes in three different colors and has a range of five meters. Like everything else in your life, it charges via an included USB cable. It can run for about half an hour after charging for one hour.
Every product on Fatherly is independently selected by our editors, writers, and experts. If you click a link on our site and buy something, we may earn an affiliate commission.
This article was originally published on