Lego's New Hogwarts Castle Set Is 6,020 Pieces of Magic and Mayhem
The biggest LEGO Harry Potter set ever arrives on September 1.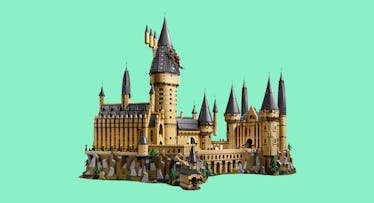 Harry Potter toys are getting better by the day. Yesterday, we saw the release of Kano's Harry Potter Coding Kit, which lets kids build and use a real "wand." Now, Lego announced the Hogwarts Castle set, a 6,020 piece version of the famed Wizarding school.
All of those pieces let you build a Hogwarts that is both massive and massively detailed. When fully constructed, the school will be 22 inches tall, 27 inches wide, and 16 inches deep. It will include rooms that played a major part in the books, such as the Great Hall (with "stained glass" windows), various subject-specific classrooms (including a vial-filled Potions room), the Room of Requirement, the Chamber of Secrets, and Dumbledore's office. Hagrid's Hut, the Whomping Willow tree, and five boats are featured on the Hogwarts grounds. No word on if it includes any showers.
As if that wasn't enough, the set also has a number of great accessories. Those include the sword of Gryffindor, wands, a cauldron, a Basilisk, Dumbledore's memory cabinet, and the Goblet of Fire. In terms of characters, the set includes standard LEGO minifigures of the four founders of the Hogwarts houses, along with a display stand. Twenty-seven (!) smaller microfigures round out the set. Among them you'll of course find Harry, Ron, and Hermione. But Hogwarts mainstays like Filch, McGonagall, Lupin, Malfoy, and, yes, He-Who-Must-Not-Be-Named are also included.
The set will be released on September 1st to coincide with the American publication of Harry Potter and the Sorceror's Stone in 1998. If you're a Lego VIP member, you can pre-order the set on August 15th.