New Balance's Smartwatch Means Never Needing To Bring Your Phone To The Gym
Meet the New Balance Run IQ
by Dave Baldwin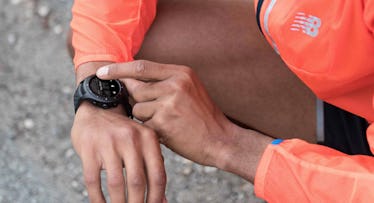 If you're one of those new parents who was determined to stick to your running regime come hell or high juice box, and you've managed to pull it off — good on you. You look great. But it wasn't easy, was it? Well, it's about to get easier thanks to this new sports smartwatch from New Balance that tracks your runs and workouts without needing to lug your phone to the gym: RunIQ.
The RunIQ is a water-resistant GPS watch/fitness tracker that does everything from monitor your heart rate, to record your workouts, to play Ja Rule while you do hill repeats. Also, it tells the time! Yeah, not only does the RunIQ keep tabs on pace, laps, cadence, and all the other metrics that runners talk about with other runners, but the built-in GPS maps your route (distance, elevation, etc.) so you're not guestimating your mileage. You can even upload your favorite Google Play playlists and listen to music through the Bluetooth-connected Jabra wireless headphones (sold separately).
The RunIQ's battery lasts about 24 hours under normal use but drops down to around five hours if you're running the GPS and heart rate monitor continuously. Then again, you should probably take a break at five hours anyway. Finally, when you get back to your phone it all automatically syncs to the Strava app, where you can see your workouts and compete/share with all those friends who gave up going to the gym once they had kids.
This article was originally published on