6 New Pieces of Travel Baby Gear Parents Should Know About
From a portable baby changing station that hooks to a headrest to a fan-equipped rear-view mirror that lets you sneak a quick peek at your kid.
by Fatherly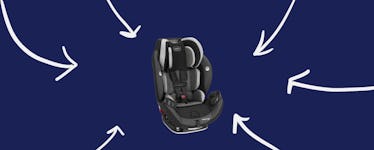 From the day you leave the hospital, your car is no longer your car. Like you, it transforms. It becomes a family transport vehicle and it needs to be filled with the right baby gear for the job. That baby gear must not only be safe and useful but also necessary — after all, space is not exactly readily available. These six items from a changing station that hooks to the head rest and can be opened with just one hand too a fan-equipped rear-view mirror that lets you sneak a quick peek at your kid and helps keep everyone cool, these six items can help.
Beanko Mobile Changing Station
As a new parent, you'll be on the move plenty, and this changing mat is designed to move with you. Conveniently hung behind your car's front seats, its foldout design expands to a 25-inch changing surface, while also including compartments for essentials storage and a sleeve in which you can slide an iPad. In a prescient moment of foresight, the changing station can easily be opened with one hand.
Brica Breeze Baby In-Sight Fan Car Mirror
For the continually commuting parent, the Brica Breeze Baby In-Sight Fan Car Mirror solves a host of problems. First and foremost, it lets you sneak a quick peek at your child in the back seat through a crash-proof mirror. But for those warm summer rides, it also includes a two-speed, remote-activated fan to keep the air moving and your baby cool. It also features an auto-off function so that batteries don't run out needlessly.
Enovoe Car Window Shade
Window shades have been around for decades, but only Enovoe has figured out a way to get it to stick in place without suction cups. Utilizing static electricity, they adhere to your window with the swipe of your hand, blocking UV waves, glare, and heat. The four-pack is enough to cover the windows of most mid- and large-size vehicles, or split them up for protection in multiple vehicles. While we haven't had to test their lifetime guarantee, it's nice to know it's there.
EvenFlo Every Stage DLX Convertible Car Seat
One car seat for every age, from infancy until their 120lbs, this seat has 10 levels of adjustment as your kids grow. It allows kids to sit rear-facing longer than most car seats — so long as they're up to no more than 50lbs — and lets parents adjust the headrest and straps simultaneously with just one hand. It installs easily with a visible bead level and has five leveling options. There's also a machine-washable seat pad and two dishwasher-safe cup holders. It's tested for front, side and rollover impact.
Adero Tag System
It can be hard to keep track of every diaper bag and travel mat. These smart tags attach to whatever bags, briefcases, or gear you need to tote, while the smaller tags – called "taglets" – can be affixed to everything inside. When all your stuff is accounted for, the main tag will flash a green "all good" indicator. If something's missing, you'll see a red light, and your smartphone will tell you what's gone rogue. The starter kit features three smart tags and three taglets, with upgraded sets containing more of each, so you can even stick one on your kid for good measure.
Baby K'Tan Weekender Diaper Bag
This handsome-looking, duffle-style diaper bag is made for travel, with lots of compartments and storage. A built-in, sealable wet bag keeps messes quarantined, while an insulated cooler bag chills bottles and snacks. There's also a one-touch wipes case, a pacifier pouch, a changing pad, and a padded storage space for laptops. The exterior is 100 percent cotton, and the interior is a germ-resistant nylon.
This article was originally published on