The New Airstream Nest Is A Luxury (Tiny) House On Wheels
The company's first fiberglass camper proves to be worth the wait.
by Dave Baldwin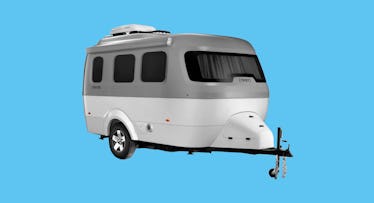 No matter how determined you are to raise kids who appreciate the great outdoors, and love camping, and can survive in the wilderness for a week by drinking their own pee, taking them off the grid too young doesn't always work. Even if you do stuff them full of s'mores every night. Sometimes it's better to have a comfortable trailer (dare we say, a nest) from which to embark on all your epic Bear Grylls adventures into the woods.
RELATED: The Best Campers, RVs, and Rooftop Tents for Your Summer Adventures
The sleek 16'7″ Airstream Nest is Airstream's inaugural foray into the fiberglass market (having acquired Oregon-based NEST Caravans in 2016) after almost 100 years of building the world's most iconic aluminum trailers. And talk about a debut: The futuristic-looking compact camper actually boasts an industry-first, single monocoque fiberglass shell (so it isn't built on a metal frame) complete with wrap-around windows and a tilt moonroof. It weighs in at a paltry 3,400 pounds and can be towed on its 16-inch alloy wheels by any mid-sized SUV or crossover, although they still recommend a V6.
The Nest comes in one of two floorplans ⏤ the 16FB and the 16U Dinette ⏤ both of which include a queen-sized bed, full-height closet, wet bath, stainless sink, dual-burner cooktop, microwave, and a 3.2 cu ft. fridge/freezer. The cabin is 6′ 10″ wide and the ceiling tops out at a very comfortable (provided you're not a professional NBA player) 6'6″. It comes with both A/C and a 16,000 BTU ducted furnace and is loaded with windows and skylights to soak up the sun/take in the views. The big difference between the two models? The bed in the Dinette converts into a U-shaped kitchen table and there's a large built-in counter/desk for eating or sending work emails when you should be out fishing.
The other big difference from Airstream's original announcement about the Nest is the price. Initially, it was expected to sell for around $30,000. Now that it's finally leaving the nest (aka, their Ohio factory), however, it's slightly more pricey. Expect to pay around $46,000 without any upgrades.
This article was originally published on