Video Review: Nest Cam Indoor
All the pros and cons before you enter your credit card info.
by Dave Baldwin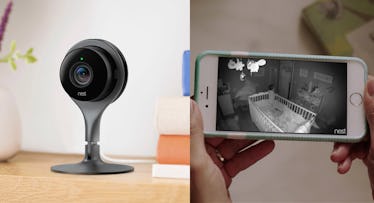 Looking for all of the Best Baby Gear of the Year, from jogging strollers to baby carriers? Click here.
While technically not a "baby monitor," the Nest Cam has your kid covered while still integrating with those other Nest products that make sure you don't burn to death in your bed. It's actually a high-def, wide-angle security camera with night vision that streams over Wi-Fi to a smartphone app. Which means you can watch Junior sleep from your favorite restaurant, rather than just the next room over. (Editors note: We don't recommend leaving a sleeping child unattended, no matter how good the steak tips). Naturally, as there are some tradeoffs with traditional baby monitors, reviewers had plenty to say.
RELATED: The Nest Cam Outdoor Knows What's A Threat And What's a Pet
Pros:
Baby Gear Lab gives the Nest Cam a "top pick" because it has "impressive reliability", "excellent video" (1080p with a 130-degree field of vision), "and enough features and device compatibility to keep baby under watch for hours."
You can use it as a baby monitor from anywhere in the world — be it from the neighbor's deck or a Parisian bar — just as long as you can score a good WiFi connection and/or a data signal on your tablet.
Gizmodo points out some upgrades from its predecessor (Dropcam) that make it simpler to install, like "a redesigned body … with a magnet that will make it far easier to hang around the house." CNET agrees, noting that the new magnetic base and 360-degree rotating stand allow you to get that optimal angle much more easily.
Cons:
Remember, Nest Cam not a traditional baby monitor, so don't expect it to function like one (no flashing red LEDs to let you know sleep training isn't working). You'll also need a decent Internet connection, and a better streaming plan. BGL says it "requires a minimum upload speed of 0.5 Mbps. Even with a connection close to this speed we still had success using this monitor with only a couple of seconds delay. The distance from a WiFi router is the main thing that can impact performance and result in loss of connection." Hope your baby likes his new teether from Netgear.
Along those same lines, because Nest Cam streams over the internet rather than directly to a monitor, the camera only works if there's a WiFi connection. As Reviewed.com Smart Home points out, "the idea that my baby monitor will just stop working if my WiFi cuts out is a serious concern."
Nest Cam can't stream audio unless you're actually watching the live feed, ReviewedSH also notes. So if you shut your iPhone screen off, or try to send a text, you won't be able to enjoy the adorable sound of your baby babbling themselves to sleep. As a result, many users also plug in a traditional audio monitor alongside the Nest Cam.