Nerf's New Ultra One Blaster Shoots Darts An Astonishing 120 Feet
Every Nerf aficionado needs to add this to their collection.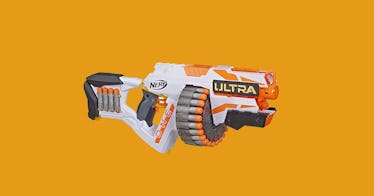 The Nerf Ultra One Blaster isn't the most powerful Nerf gun. It doesn't hold the most ammo or look the coolest. And yet, there is a very good reason that Nerf is touting it as "the gold standard in Nerf dart blasting." It's the automatic Nerf gun of everyone's dreams.
The Ultra One is the first blaster to use Nerf's brand-new Nerf Ultra darts, the "farthest flying Nerf darts ever." The new design features an innovative flight tip, lightweight foam construction, and "aerofin" technology, basically a grooved surface that decreases wind resistance.
All of this adds up to a Nerf dart that can hit targets an astonishing 120 feet away, 40 feet more than the N-Strike Elite darts that previously held the crown. The company also says that they travel faster and with more accuracy, which should come in handy when your kids get into particularly heated battles.
This particular blaster is the first in the Ultra line, so we don't expect it to be either the cheapest or the most powerful, but it does a lot of things right. The drum holds 25 darts and four (sadly not included) C batteries power the firing mechanism.
It's two feet long and, at 4.19 pounds, is probably a bit too heavy to easily wield with one hand. Thankfully, there's a place to grasp the barrel near the tip and a chunky handle in the rear that's easy to grip. A stock behind the trigger handle lets you easily stabilize the blaster against your shoulder, and it doubles as a place to store extra darts, making in the field reloading that much easier.
This blaster is out today. We can only assume (and hope!) that it's the first in a long line of Nerf Ultra weapons that, thanks to their updated darts, make the Nerf battles of the future even more fun and competitive than they are already.
Every product on Fatherly is independently selected by our editors, writers, and experts. If you click a link on our site and buy something, we may earn an affiliate commission.