Nerf's New Overwatch Blasters Pack Some Serious Foam Firepower
They're serious foam flingers.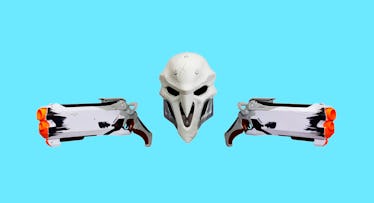 In recent years, Hasbro has created licensed versions of one of its most popular toys: Nerf guns. That's been great news for foam-loving fans of the Avengers, Star Wars, and Fortnite. The latter collaboration confirmed what now seems obvious: that first-person shooter video games make perfect fodder for foam-firing toys.
Nerf's latest collaboration is a big one: a collection of foam blasters inspired by Blizzard Entertainment's massive first-person shooter Overwatch. Last May, just two years after its release, the game had amassed over 40 million players. That's a huge, built-in customer base for licensed merchandise, one that Hasbro hopes to reach with this new line of seven different blasters.
Three of the seven are fairly small, $10 handheld shooters that use the Nerf MicroShots series of ammunition. Each is a small blaster that fits in the palm of your hand, with a small tab on the bottom of the handle you pull to cock the weapon that can shoot one dart at a time. Nerf seems to be marketing these as much as collectibles as functional weapons, and fans can pick up models inspired by Overwatch heroes Torbjorn, D.Va, and Tracer for $10 apiece.
All of the other blasters in this line use Nerf Rival rounds, starting with the $30 blaster also inspired by D.Va. It's a breech-loaded, spring-action blaster that holds three rounds and can fire then one at a time at a velocity of 90 feet per second. And like the MicroShots toy, it includes D.Va's signature bunny charm hanging from the handle.
McCree's Nerf Rival Blaster comes complete with revolver-like styling along the handle and swing-open barrel, a spinning sput on the handle, and a sheriff's badge inspired by the "iron-willed lawbringer." It's $40 and comes with and can hold six rounds, and can fire one at a time using a spring-action mechanism.
The longer and heftier Overwatch Reaper (Wight Edition) blaster holds eight top-loaded rounds at once. It's $50 and comes with a ready indicator and a trigger lock that keeps it from firing accidentally.
But true Reaper fans will settle for nothing less than the $130 Collector Pack, a kit that comes with two Reaper blasters and a creepy white face mask that lets them dress up as their favorite character. The pack comes with 16 Nerf Rival rounds so kids can enter battle with both weapons fully loaded.
None of these weapons has the firepower of the Nerf Prometheus, but they have plenty to offer for Overwatch fans eager to bring their play into the real world.