These New Nerf Blasters Shoot Foam Cars Instead Of Darts
Prepare to get hit by a miniature Ford Taurus.
by Dave Baldwin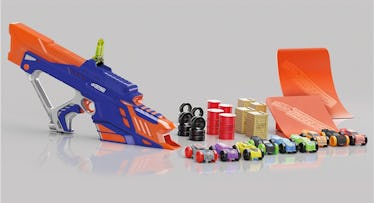 No sooner does Nerf surprise the world with a Nerf dart that actually hits the target, then they change the whole damn game altogether: Blasters that shoot foam cars as ammo!
RELATED: This Remote-Controlled Bomb Can Take Out An Entire Room
Set to hit stores this summer for kids ages 5-and-up, Nerf's new Nitro blaster is as much a spring-loaded gun as it is a tabletop launcher designed to hurl toy cars across the floor at high speeds. They load, cock, and fire just like every other Nerf gun you've ever shot — the only difference is a safety mechanism that prevents them from discharging unless sitting on a flat surface. Which is good, because it means Dad doesn't take a miniature Pontiac LeSabre to the face every time he walks into the kitchen.
There are five Nerf Nitro blasters all told, and each comes with a different assortment of ramps, cars, and obstacles to barrel through — including tire stacks, crates, actual barrels, and rings of fire! (Note: fire not included). Prices will range from the $10 Throttleshot Blitz (a single-shot blaster, one car, and 2 obstacles) to the $50 motorized, machine-gun-style Motofury Rapid Rally that rocks a 9-car clip and both high and long-jump ramps.
As for the Nerf cars, they're about Hot Wheels-sized, made from a slightly harder foam than the traditional darts, and sport plastic wheels. But don't worry, they won't ding up your baseboard molding — it is still foam after all. Forty-eight different style cars will eventually roll off the tiny-car assembly line, and they'll be sold in packs of 3 ($6) or 6 ($10) so you can collect/shoot the entire fleet.
This article was originally published on