If You See This Nerf Drone Coming After You, It's Already Too Late
by Elijah Brumback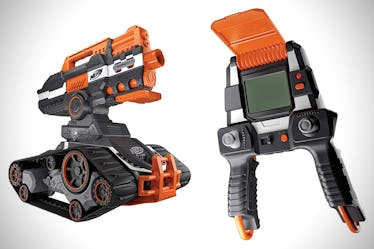 It's already been demonstrated that Nerf guns in the wrong hands can kill a man. Fortunately, this latest Nerf weapon is merely the most advanced way to shoot someone in the crotch. Meet the N-Strike Elite Terrascout RC Drone Blaster — an overkill name attached to N-Strike's line of overkill, military-grade foam hardware. While the military industrial complex may pay tens of millions for one of these beauties, it can be yours for the low, low price of $200.
RELATED: Doomlands The Judge Is A Beastly Nerf Gun Blaster
Watch the 720p HD streaming video on the remote control to target your enemy (read: family pet), start blasting with 18-rounds of dart-shelling capacity, and record the carnage on the included SD card. The Nerf N-Strike Elite Terrascout RC Drone can also be aimed independently from its driving direction, which means the ability to attack while retreating. The whole thing is powered by a rechargeable battery and four AAs.
The bad news: The Nerf N-Strike Elite Terrascout RC Drone won't be in stores until this fall. The good news: You have time to draw up your battle plans. With any luck the cat will sense its impending doom and get out of Dodge.
This article was originally published on