The Nerf Mega Mastodon Is The Huge, Powerful Nerf Gun of Your Dreams
This mega Nerf gun is hefty and powerful, just like its prehistoric namesake.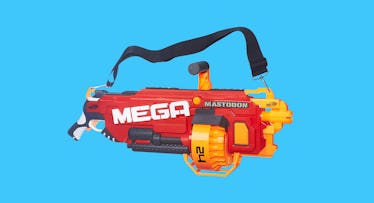 Nerf guns are pretty much mandatory for any self-respecting child (or adult). Which brings us to mastodons, which were any of several species of massive, vaguely elephant-like mammals that once lived in North America, Europe, and Asia. They've been extinct for 10 to 11 thousand years, but their legacy of being massive, dominating beasts continues as the namesake of the Nerf Mega Mastodon, a truly impressive, truly mega Nerf gun, part of the Nerf Elite series of blasters.
The first thing you'll notice about the Mastodon is — unsurprisingly — its size. It's nearly three feet long and 16 inches tall. The strap it comes with, which clips on at the tip and butt of the blaster, is a hint to its heftiness; the Mastodon weighs six pounds, heavy enough to be difficult for kids to hold and tiring for adults to keep held. It's a lot of plastic is what we're saying, so the strap is a welcome help.
But unlike the Mastodons of old, herbivores who lived fairly tranquil lives in forests, the Nerf Mega Mastodon is an aggressive beast. As the first motorized blaster in the Mega line, the Mastodon fires a payload of 24 Mega Whistler darts from a rotating chamber via an electric motor powered by six (!) D batteries instead of the pump-action mechanisms of manual blasters.
To create a truly inescapable onslaught of darts that can hit targets up to 100 feet away, simply hold down the acceleration button to rev up the motor. Once it's ready to go, you can tap the trigger for single slots or simply hold it down for automatic fire and all-out mayhem.
All that firepower won't come cheap, and we kind of wish the Mastodon came with more than one dart drum and more than the 24 darts needed to fill it. But if you're looking for a big, bold Nerf blaster, this is the one to buy.
Every product on Fatherly is independently selected by our editors, writers, and experts. If you click a link on our site and buy something, we may earn an affiliate commission.
This article was originally published on