Nerf's New Laser Ops Pro Blasters Are, Well, a Blast
They don't fire any darts. But they have a lot of tricks hidden in their futuristic handles.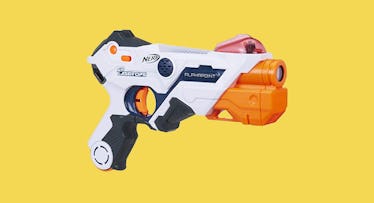 Nerf guns are staples of all our homes. We proudly duck and roll and dive during foam dart battles with our kids — and significant others. But at the end of the day the foam darts are hell to pick up. They find their way beneath coffee tables, into couch crevices, and other hard-to-reach places. So we're intrigued by Nerf's new Laser Ops Pro series of non-dart gun. The toy guns eschew darts for infrared signals, enabling you to run around and play interactive laser tag or laser-tag-ish games with nary a piece of ammunition to pick up. But is a Nerf gun with no foam darts really a Nerf gun? I don't know. But these new guns are a hell of a lot of fun.
There are two products in the Laser Ops Pro series so far: the AlphaPoint Blasters and the DeltaBurst blasters. Each is essentially an IR transmitter and receiver in a gun-shaped plastic shell that is aesthetically similar to traditional Nerf weaponry, right down to the purple, orange, and grey color scheme.
Both have a simple trigger mechanism and a button on the bottom of the handle that you hold to "reload" your weapon. On top of the barrel is a multidirectional receiver dome that registers IR signals emitted by your opponents. The majority of the weight in the blaster comes from the AA batteries, which are inserted at the end of the barrel underneath the IR transmitter.
The AlphaPoint is the smaller (roughly a foot long) and easier to wield weapon. It has a pair of indicator lights that alert you when you need to reload or have been hit too many times. You can get one AlphaPoint for $30 or two for $45.
The DeltaBurst is about twice as long and features an LCD screen that displays health and ammo levels, a better way of doing so than the simple lights on the AlphaPoint. It also comes with a ratcheting mechanism for "real kickback action." The ratcheting is kind of cool at first, but it's loud and doesn't add much to the gameplay. It retails for $50.
Out of the box, you can put batteries in the blasters, turn them on, and start shooting. When you're hit the gun makes a noise and a red light in the receiver dome blinks. It's a pretty fun, traditional game of laser tag, but the real killer feature of the Laser Ops Pro line is its Bluetooth capability. Playing while connected to a smartphone allows you to engage in more complex types of gameplay.
To begin, you'll need to download the Nerf Laser Ops Pro app to your phone, enable Bluetooth, and connect to the blaster following the onscreen instructions. Then, you'll have your choice of single player and multiplayer modes.
Single player is essentially an augmented reality game. To set it up, you strap your phone into a rubber holster that then attaches to the solo attachment, a piece of plastic that fits snugly on the barrel of the blaster. When the game begins you will see drones flying towards you on the screen that you have to aim at and shoot. If you enable camera access, you'll see your actual surroundings on the screen, a very cool feature, as is the haptic feedback (a phone vibration) that happens when you hit or are hit by a target.
Connected play with friends is even more fun. The same rubber holster that fits on the solo attachment also wraps tightly around your wrist, turning your phone into an overgrown smartwatch that displays your current ammo and health, time remaining, and the locations of the other players using their phones' GPS signals.
In the app you can set up a free-for-all or team game with up to four total players that lasts three, five, 10, or 15 minutes. You can also decide whether or not to allow Power-Ups that do things like increase the damage your weapon does, let you fire at teammates to increase their health, or cause damage to all of your opponents by hitting just one of them. You can choose which Power-Up to arm your blaster with from the app once your round commences.
The whole experience feels like a first-person shooter come to life; the app gamifies everything. After a match, it displays the winner and assigns awards to individual players. The more you play, the more experience points you get, which you can use to upgrade your weapon. They're also tracked in a leaderboard so you can compare your stats to those of players around the world..
The AlphaPoint uses four AA batteries while the DeltaBurst uses six. Annoyingly, the solo attachment does not come with the two-pack of the AlphaPoint.
To answer our earlier question, the Laser Ops Pro series may have the Nerf name, but it's not a Nerf gun. But that's okay. We think kids, especially those who love first person shooters, will really enjoy playing with these toys. The hiccups in design and execution weren't enough to deter us from having fun, and we look forward to future versions that build upon this first effort at a smartphone-enabled laser tag system. You can pick up the two-pack of the AlphaPoint blasters at Amazon for $45
Every product on Fatherly is independently selected by our editors, writers, and experts. If you click a link on our site and buy something, we may earn an affiliate commission.