Meet The Custom Builder Welding Kick-Ass Custom Rides For Little Kids
He pimps their little rides.
by James Wohr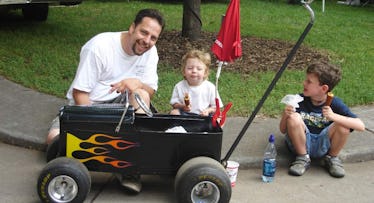 Mycooldaddy.com
Whenever he was pushing a stroller, Chad Erickson always felt like, well, a bit of a wuss. "I kind of felt like a heel pushing around a pram with my boys in it, and I'm thought 'There's gotta be a cooler way to go to a car show than pushing a coal-gray stroller." So, two weeks after the birth of his son Jack in 2001, Erickson, an inveterate car guy who runs an auto body shop, attached a custom chassis and pair of go-kart wheels to a Radio Flyer wagon and used that to transport his kids at a local auto show in Minneapolis. The big-wheeled wagon was an immediate hit with his kids — and a lot of parents at the show. Soon, Erickson began taking orders for personalized kids' rides and My Cool Daddy, his kid-vehicle custom shop, was born.
My Cool Daddy works like this: parents who want to soup up their kid's standard wheels get in touch and Erickson creates a chassis and/or a custom shell that fits their desires, be it a Radio Flyer Wagon with fat wheels, a Porsche-shelled pedal car, or a refurbished stroller with the body of a vintage hot rod. Once the build is complete, he sends it off to the customer along with instructions on how to affix it to their ride. From there, it's off to the parenting races.
The designs bring a much-needed flair to what many fathers see as lame parenting accessories. They also give kids the illusion of control — and put parents behind the wheel.
"The ones that I've done, the parents are always pushing, always in control," Erickson says. "The steering wheel's not connected, because if you're trying to push your little one and he can steer the thing, good lord, you're not going anywhere you wanna go."
The rest of his creations followed a similar logic. Although he first started out making Radio Flyer wagons, he worried that they might not be safe for all riders.
"I was always so nervous about the Radio Flyer not really having sides in the sense of a baby," he says. "A four-year-old could sit in a Radio Flyer no problem, but a six-month-old is gonna fall right out." And that's why Erickson decided to get into the pedal car game too. "I thought, 'If we got ourselves a pedal car, just use that body and make a little firmer seating position, seatbelt him in, whatever.' Plus, they look pretty rad.
A standard, bare-bones frame from My Cool Daddy — that is, chassis and wheels — costs between $500-550. Custom jobs are on a case by case basis. All the creations can hold up to 150 lbs. and are built to last for generations. And that's exactly the point. Erickson sees these creations not as something that will find their way to the Goodwill bin after a few years of use, but as an heirloom that will sit proudly in the garage.
"I always tell people, 'You're not gonna put this thing on Craigslist and sell it for what you're gonna put into it, so you better really love what you're doing and know that it's something your kids are gonna wanna keep forever. That was always kind of my idea."
This article was originally published on