How Mountaineer Conrad Anker Unexpectedly and Accidentally Raised Adventurers
After losing his best friend and climbing partner to an avalanche, Anker stepped in to help raise his three sons.
by Jayme Moye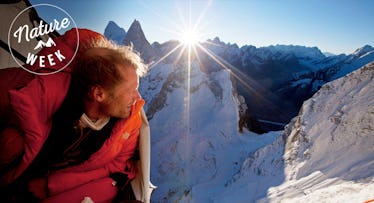 Conrad Anker in MERU. Courtesy of Music Box Films. Photo by Jimmy Chin.
Conrad Anker, captain of The North Face Global Athlete Team and one of the world's most well-respected mountaineers, didn't expect to become a parent. In 1999, Anker lost his best friend and frequent climbing partner Alex Lowe, a 40-year-old father widely considered the greatest mountaineer of his generation, to an avalanche in Tibet. The two men, part of a team attempting to become the first Americans to ski an 8,000-meter peak, had trekked high on the slopes of 26,289-foot Shishapangma with expedition cameraman David Bridges when the deadly avalanche tore down the mountain's south face. Anker was seriously injured ⏤ snapped rib, gashed head⏤ but he was not buried. Lowe and Bridges weren't as lucky.
The team spent two days searching for them.
Back home in Bozeman, Montana, Anker did everything in his power to help Lowe's widow Jenni raise her three boys, who were then 5-, 8-, and 12-years-old. He and Jenni spent an increasing amount of time together and eventually fell in love (their story is chronicled in the 2015 documentary Meru). It was a surprise, but Anker took to parenting, which he approached in much the same way he approached mountaineering — with deep respect and a desire for mastery. He also wanted the Lowe boys to follow in their father's footsteps and into nature.
"Being outdoors teaches you self-reliance, cooperation within a group, and brings out a sense of humility and acceptance of other humans," he says ⏤ but acknowledges that by the time he integrated into the Lowe family, the boys were already outdoorsy. "Getting outside was an integral part of how Jenni and Alex raised them."
Anker and Jenni planned family hikes and took the boys skiing at nearby Bridger Bowl. On spring break, everyone piled into the van for an outdoor vacation, typically in the desert of southern Utah. And of course, Anker climbed with the boys ⏤ when they expressed interest, which they did frequently.
Still, Anker and Jenni didn't just want to raise mountaineers. They wanted to raise well-rounded young men. They decided to mandate that the boys accomplish three goals unrelated to the outdoors: playing a musical instrument, speaking a second language, and attending college. (Anker notes that they didn't stipulate the boys had to graduate from college, but wanted them to go and make an educated decision about it.)
As the boys grew into their teens, Anker and Jenni recognized that raising outdoorsy kids in the U.S. can come with a social price, and so they allowed them to choose how they wanted to spend their free time. All three continued to gravitate toward the outdoors, with Max following the most closely in his biological and adoptive fathers' footsteps. When he turned 18, he asked Anker help him climb Denali, the highest mountain in North America. (The two attempted it but ended up turning back just shy of the 20,146-foot summit due to a lightning storm.)
"Our kids were kind of outliers when it came to organized sports," Anker says. "Sam [the middle son] would be out there on the soccer pitch staring up at the clouds." But he thinks it's worth it. "Organized sports, with their focus on competition, don't give you the same skills." Although had any of their three sons not been as outdoorsy, Anker doesn't think it would have mattered to him and Jenni. "They were exposed to the fundamentals [of the outdoors] when they were very young, and were free to create and forge their own path as they grew," he says. So long as a child isn't destructive to himself, other people, or animals, Anker adds, and has something he's passionate about — which could just as easily be Legos as mountains — it's all good.
This article was originally published on