Unirider Is A Pushable Unicycle That Can Replace Your Toddler Stroller
by Dave Baldwin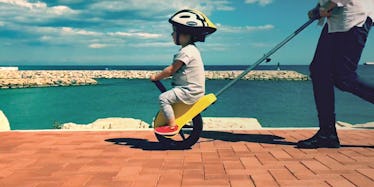 Don't let the pictures fool you: The Unirider from Mountain Buggy was not invented by a guy figuring out how to get his toddler to do the weed whacking. (Although that sounds like a decent Shark Tank pitch.) No, this pushable unicycle is the brainchild of a British dad in need of a toddler stroller alternative after his 3-year-old staged a transportation boycott — as European toddlers are wont to do.
RELATED: The Best Kids Mountain Bikes For Kids Who are Ready to Rip Up the Trail
Similar to a balance bike/trike with a push bar, the Unirider is part toy, part carrier. It's designed to shuttle 2-to-5-years-old (up to 55 lbs) around in a fun way while also helping them develop balance, and the ability to audition for Ringling Brothers in high school. For you, it's a chance to work out those pipe cleaners, since you're holding up their entire weight as you push. It rocks a single 12-inch, all-terrain tire that can conquer mountains (small ones), and a seat with built-in handle strap and multiple foot positions so they can sit comfortably as they get bigger.
And, because it's pitched as an alternative to a stroller, carrier, or even cargo bike, size is key. Luckily, it only weighs 6.5 lbs, and measures 4-feet in length. When disassembled, it can purportedly fit in a suitcase — without clothes, diapers, toys, and those bottles of hot sauce the TSA deemed too hot for carry-on. The only thing it won't do that you wish it would: Edge the damn lawn.
This article was originally published on