Video Review: Motorola MBP36S Wireless Video Baby Monitor
All the pros and cons before you enter your credit card info.
by Dave Baldwin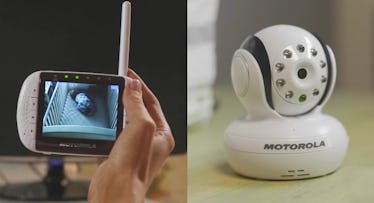 Looking for all of the Best Baby Gear of 2016, from jogging strollers to baby carriers? Click here.
Whether or not you really need to watch your baby sleep in full color is a parenting debate for another day, but if the answer is "yes" then this luxury-class Motorola should be on your short list. Regularly cited as the best wireless (non-WiFi) video baby monitor of 2016, the MBP36S has a nice wide 3.5-inch color screen and a camera you can tilt, pan, zoom remotely to make sure Junior's best side is always on display. Other bells and whistles include adjustable infrared night vision, room temperature monitoring, a 2-way mic, and picture-in-picture viewing for up to four cameras. As with every product made in the internet age, however, there are differing opinions. Here's how the reviews broke down.
Pros:
The Nightlight gives the Motorola MBP36S video baby monitor a thumbs up, citing that its "3.5-inch screen still captured subtle movements, and you can change the camera angle remotely." They were also hypnotized by "its LED audio monitor. Both clear and soothing (the LEDs aren't blinding, they're just gentle, subtle lights), we kept it running long after formal testing was complete."
Assuming you have more than one kid and/or want to shoot the baby's crib from multiple angles for your documentary, you can add up to four cameras. Watch them all using either the picture-in-picture or timed auto-switch settings.
The MBP36S also plays lullabies. Just your standard ones. No River of Dreams-era Billy Joel.
Cons:
Not enough River of Dreams-era Billy Joel. Also, the Motorola MBP36S video baby monitor's dynamic range is kind of shoddy, and there's no sound activation or sensitivity adjustment. Says BabyGearLab: "Sound sensitivity should help the unit obtain a silent state so parents aren't being kept awake by a noisy monitor. If the reason to get a monitor is to increase chances of getting a good nights rest, then having a monitor that makes too much noise might not fit the bill."
While the Motorola MBP36S video baby monitor has large, easy-to-use buttons, the menu system can be challenging. And "not all of the features are a one button push," adds BGL. "The zoom function alone required over 4 button pushes to use."
"It doesn't come with any mounting hardware," notes Cool Mom Tech, "which can make it an easy target for a handsy toddler. We were able to jerry-rig something far out of reach, but it would be nice if that were included."
Some Amazon reviewers also weren't that kind to the Motorola MBP36S video baby monitor's longevity, saying the battery crapped out after a little more than a year. Pro tip: Keep it plugged in, people.
This article was originally published on