The Best Mother's Day Gifts for Working Moms
Including a personal iced coffee maker and a pair of cushy, noise-cancelling headphones.
by Dave Baldwin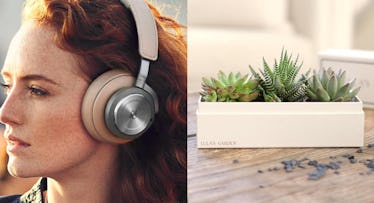 There are few more challenging endeavors in life than being a working mom. It's essentially the equivalent of balancing two full-time jobs with very needy co-workers, except only one comes with uninterrupted bathroom breaks (or, you know, a salary). Both, of course, are exhausting. So to say thank you this Mother's Day⏤ for bringing home the bacon and cooking it up ⏤ here's an assortment of Mother's Day gifts for working moms, including a fast-acting personal iced coffee maker, double duty work bag, and pair of noise-cancelling headphones, to make your better half's life at the office a little bit nicer. Some help spruce up mom's desk, while others give her a chance to zone out, rock out, or caffeinate; all of them remain safely out of reach of the kids.
Brass + Cork Print Stand
Help your proud mama show off her family (or maybe just the kids?) to unsuspecting colleagues this Mother's Day with this collaborative print stand from Artifact Uprising and the industrial design studio, YIELD. It's made of brass and Portuguese cork, fills in admirably as a paperweight, and holds as many as six square photos. Just don't forget to print out the actual pictures before wrapping.
B&O Play BEOPLAY H9 Headphones
For the mom who works in an open floor plan, these sophisticated Bluetooth H9 headphones from Bang & Olufsen with active noise cancellation should drown out even the worst interoffice chit-chat. And for the entire day, no less, as they clock 14-hours of continuous play on a single 2.5-hour charge. The controls (volume, track, play/pause) are deftly integrated into the touch-sensitive aluminum plates on the ears, they're available in either black or grey, and there's even a built-in mic for handsfree calls ⏤ so she never has to take them off. What better way to show your love on Mother's Day?
Kelly Moore Kate Bag
The beauty of the 16-inch Kate Bag lies in its versatility: Not only is it a smart-looking casual canvas messenger for work, complete with antiqued brass hardware, a 15-inch laptop compartment, and more pockets than she probably needs. But thanks to three adjustable/removable internal Velcro dividers, the large padded interior pocket can be split into four sections so it smoothly morphs into a pretty slick diaper bag as well. It's the perfect Mother's Day gift.
HyperChiller Iced Coffee Maker
Why drop $4 every morning on Starbucks when she can make delicious ice coffee at her desk this Mother's Day? The HyperChiller uses two layers of ice to turn 12.5-ounces of piping hot coffee brewed any which way (drip, french press, instant, doesn't matter) into a refreshingly cold summer beverage in less than a minute. And without watering down the java in the process. It's dishwasher safe, makes two cups before needing a refreeze, and will even chill her apres-work beer, wine, or martini.
Melanie Brantes Tall Walnut Vase
This handsome 6.5-inch tall walnut vase is hand-carved from a single piece of wood. It's finished with mineral oil and beeswax, comes with a glass vial — so it can hold both a single stem or bouquet of fresh flowers — and is also available in cherry or cork (to match her new print stand). At $110, it's not cheap, but damn does it make a nice Mother's Day gift.
Hidrate Spark Smart Water Bottle
Assuming your wife isn't the type of person who uses trips to the water cooler as an excuse to walk annoying coworkers away from her desk, it's easy to get wrapped up in work and forget to hydrate. The Hidrate Spark, however, won't let that happen. The water bottle glows to remind you to drink and also tracks your water intake, records it all in an app, and even syncs with Fitbit and Apple Watch for an all-in-one health dashboard. It's available in six fanciful colors — perfect for Mother's Day.
Colcasac iPad Sleeve
For the eco-conscious mom who may or may not have given up on cloth diapers, Colcasac hand stitches a collection of earth-friendly hemp, burlap, and bamboo canvas cases for electronics. This minimalist iPad sleeve rocks a hemp basket weave canvas exterior with a recycled polyester fleece lining to protect devices from dents and scratches. There's a pocket on the front. The closure is Velcro. And the vibrant tangerine color comes from non-toxic dye.
Desktop Jewel Garden
Even if she has the brownest of thumbs, it's tough to kill a succulent. And even harder to kill three of them! This elegant 8.5-inch planter gift box from Lula Garden comes with a trio of pre-planted succulents: Little Jewel, Zebra Plant, and Echeveria 'Starlite'. And all they need to survive is sunlight and three to four drops of waters (from the included dropper) every seven to 10 days. Assuming she doesn't work inside a missile silo in the desert, getting a Mother's Day gift doesn't get any easier.
Flux Charger
Ensure her phone doesn't cut out in the middle of FaceTiming the kids while she's traveling for work with this credit-card sized, universal charger from Flux. Not only will it juice up any USB, microUSB, or lightning port device twice before needing a recharge, but the Mother's Day gift also uses a smart current regulator to avoid wasting power in the process. The cords are built in and the whole package weighs a paltry 3.1-ounces.
This article was originally published on