Best Mother's Day Gifts 2018
From stacking gold rings to a next-level family portrait, there's a gift for every mom.
by Donna Freydkin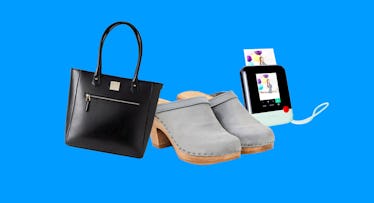 Little known historical fact: The West Virginia woman, Anna Jarvis, who started Mother's Day in 1908, was eventually so opposed to its commercialization that she boycotted her own holiday. Instead of buying Mother's Day gifts, she insisted that people write their moms (and, presumably, their baby's mothers) long letters of appreciation. Whether or not she was cool with handmade ceramic ashtrays that read "World's Best Mom" is anybody's guess.
RELATED: Best Mother's Day Gifts 2019
And while the idea of sitting down by candlelight to pen a lengthy, heartfelt treatise to your spouse sounds lovely in theory, who has time for that? So instead, let Jarvis roll over in her grave a little, and tell your wife "thanks" this Mother's Day with a gift she won't accidentally throw away. Here are presents she's certain to appreciate, including stackable gold rings engraved with the kids' names, an artsy portrait of the family, and an espresso maker she can bring to the office. Now, just don't forget to write something in the card.
#MOMLIFE Snarky Coloring Book
For those few moments between naps and nursing, this anti-stress coloring book for adults celebrates the humor and frustration of motherhood. It features 74 thick-stock pages of fully detailed drawings just waiting to slowly be filled in with pencil, marker, or watercolor by the time the baby is potty trained. More importantly, it's pretty hilarious.
Mommy Milestone Wine Labels
These handmade bottle labels celebrate events in a new mom's life that "deserve a party" and a bottle of wine: like "First Mommy Meltdown," "Baby Slept Through The Night," and "Goodbye Baby Weight." There are six to choose from, and you can order as many as you'd like, just don't forget the bottles of wine to stick them on. They come personalized by name/favorite color and, just like her, they won't run if they get spilled on.
White Stacking Gold Rings
The beauty of these 10k white gold, stackable rings ⏤ which are engraved with the name of a child or spouse ⏤ is that they're sold individually, so you can buy more as the family grows. They're also available in a slew of other metals to match her skin tone including sterling silver, yellow gold, white gold, rose gold, and 14k gold.
Charlotte and Asher Diaper Bag
The un-diaper-bag of diaper bags, the "Gabrielle" by Charlotte and Asher is stylish enough that it can go from playground to work to Des Moines for business without raising an eyebrow. Yet it's still fully functional and loaded with room for swaddles, diapers, pacifiers, and more. Every bag purchase helps a child in need receive five life-saving vaccinations.
Melanie Brantes Tall Walnut Vase
This handsome 6.5-inch tall walnut vase is hand-carved from a single piece of wood. It's finished with mineral oil and beeswax, comes with a glass vial ⏤ so it can hold both a single stem or bouquet of fresh flowers ⏤ and is also available in cherry or cork.
Paper Cut Family Portrait
Sure, you can give your wife a framed picture of the family. But you know what's better? Turning that same picture into an artsy paper cut portrait. Simply provide the artist at Purple Paper People with three different photos, specify everybody's eye color/clothing/and hairstyle preferences, and then sign off on their illustration. From there, the artists turn it into a 4.5-inch by 4.5-inch watercolor and gouache masterpiece complete with family name and flowers. Price is based on the number of people in the pic (three runs $250), and you can throw in the family dog for an extra $63.
The Cottage Greenhouse Foaming Bubble Bath
"Me" time is not typically something mom gets a lot of. Afford her several hours of it to relax in a bath freshly drawn with one of Cottage Greenhouse's vitamin-rich soaks. Not only do these bubble/milk baths come ripe with anti-oxidants and skin-softening hydrators, but they're also sold in a plethora of fanciful flavors and eccentric scents including Violette fig and black currant, sugar beet and blossom, and Japanese Plum and white tea.
Polaroid Pop Camera
The Polaroid Pop offers the ease of a digital photography with the instant gratification of an old-school Polaroid. The Pop rocks a 20-megapixel lens, LCD touchscreen viewfinder, Bluetooth/wifi connectivity, dual LED flash, and shoots 1080p video. Better still, the same camera instantly prints full-color 3.5″ by 4.25″ images with the iconic Polaroid border to stick on the fridge.
Old-School Clogs
A fashion staple for moms who "literally just can't" with impractical shoes, clogs don't sacrifice style for functionality. They're as cute with everyday jeans as they are with an easy-breezy dress. These old-school clogs from No. 6 in "Alaska" feature a 100-percent leather upper that softens over time and come in a perfect summer color.
PediPerfect Rechargeable Foot File
This waterproof PediPerfect softens feet, buffs skin, and removes calluses in mere minutes. It's got two speeds, a rechargeable built-in battery (so no fumbling for more 'AA's,) and it can go in the bath or shower.
Sudara Kala Robe
For the socially conscious mom who wants to do her part (but also look stylish while sipping her morning coffee), Sudara's line of rayon robes are made in India by "high-risk women or survivors of human trafficking." Part of the proceeds from each sale also goes to job creation and training for other women in need. The machine-washable Kala comes in a soft cornflower blue, is trimmed with a golden waves border, and features both pockets and a fabric tie closure.
Wacaco Minipresso
This handheld instant coffee maker weighs less a pound and extracts a bold cup of espresso at her desk (or on the beach, or at on the hiking trail, etc.) in minutes. All she has to do is fill it with hot water, give it a few pumps, and let the internal semi-automatic piston do its thing. The Minipresso accepts either fresh ground coffee or Nespresso or Caffitaly capsules.
Vintage Locket
The best part of this hand-casted, heart-adorned pewter locket is there's no tiny picture to cut out and put inside. Simply email the image and nimble-fingered elves at Vintage Pearl will drop it in for you. Feel free to add the date or secret message for posterity.
B&O Play BEOPLAY H9 Headphones
For the mom who works in an open floor plan, these sophisticated Bluetooth H9 headphones from Bang & Olufsen with active noise cancellation should drown out even the worst interoffice chit-chat. And for the entire day, no less, as they clock 14-hours of continuous play on a single 2.5-hour charge. The controls (volume, track, play/pause) are deftly integrated into the touch-sensitive aluminum plates on the ears, they're available in either black or grey, and there's even a built-in mic for handsfree calls ⏤ so she never has to take them off.
Desktop Jewel Garden
Even if she has the brownest of thumbs, it's tough to kill a succulent. And even harder to kill three of them! This elegant 8.5-inch planter gift box from Lula Garden comes with a trio of pre-planted succulents: Little Jewel, Zebra Plant, and Echeveria 'Starlite'. And all they need to survive is sunlight and three to four drops of waters (from the included dropper) every seven to 10 days. Assuming she doesn't work inside a missile silo, buying a Mother's Day gift has never been easier.
A Sensual Fragrance: Santal from Le Labo
This unisex scent ⏤ a favorite among the fashion crowd ⏤ has notes of leather, cedar, sandalwood, and musk. In fact, it's addictive enough that you may find yourself sharing. Each fragrance is hand-made in one of Le Labo's 'labs' and, if purchased from one of their brick-and-mortar locations or website, comes with personalized bottle label and box (up to 23 characters). Available in 15ml up to 500 ml.
This article was originally published on