The Most Expensive Nerf Guns Ever Released
If you've got any of them stashed away, with darts, discs, or pellets in the clip, now might be a good time to unload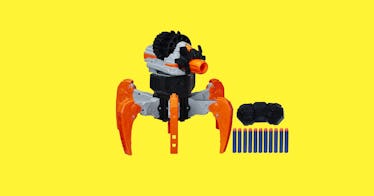 The visceral thrill of pelting one's family and friends with foam darts has made Nerf foam blasters beloved toys for generations. From the first Nerf gun in 1989 and over the subsequent decades, they've endured and evolved, from Nerf N-Strike to Nerf Rayven to Nerf Zombiestrike, even as other toy fads have come and gone. The longevity of the brand means that some old Nerf guns have become collectibles and that the most expensive Nerf guns are worth a lot of dough. As with all toy collectibles, gem mint models in the original packaging command a hefty price, but even gently used Nerf guns can still fetch a pretty penny for those in it for the love of nostalgia.
"As far as collectability goes, there's an entire fandom that's built around dart blasters — and not just those from Nerf, though it is the leader and the benchmark when it comes to that space," says James Zahn, Nerf expert and senior editor at The Pop Insider. Ture, they may not be as valuable as certain Lego sets, but the most expensive Nerf guns are still sought after by collectors and investors who know what to look for.
"Several factors, including the original price, functionality and playability, and length of time on the market can have a drastic effect on aftermarket desirability," says Zahn. There's also a growing customizer and modifier user group who seek out older models because of their unique ability to be tweaked. "The market availability of functioning, original, unaltered pieces is shrinking every year," he adds, "and that's driving prices up as demand increases." Translation: If you've got any of them stashed away, now might be a good time to unload.
Here, then, are the 12 most valuable Nerf guns around.
All prices are MIB—mint in box—unless otherwise noted.
1. Nerf Max Force Manta
Average Price: $425
Released: 1995/1996
It makes sense that such a unique-looking piece would top this list. The Max Force Manta was Nerf's first and only true shield/blaster hybrid. Built to look like a Manta Ray, the body can block incoming fire, while the multiple barrels (another first for Nerf) shot two carefully-angled darts designed to converge on the target. "The first waves of blasters hit the market at just the right time that there's a lot of parents in their '20s to '40s who are now sharing the fun with their own kids," explains Zahn. And this one-of-a-kind offering is a truly respected relic among collectors of old Nerf guns.
Gently used but still with its original box. This item is worth storing away.
2. Nerf Dude Perfect Signature Bow
Average Price: $250+
Released: 2017
"Hasbro was ahead of the curve with this one," explains Zahn. "By partnering with such a popular YouTube channel like Dude Perfect, they were able to create a lot of hype." Advertised as the biggest and farthest-firing blaster ever (with a range of up to 105 feet), it's become increasingly rare. "I haven't come across anyone who actually owns one of these," says Zahn. "On the secondary market, that's a good thing. I've seen them sell for double or triple the shelf price."
Not only do you get the original, but you also get an extra two arrows. Can't beat it.
3. Original Nerf Crossbow (purple version)
Highest Sale Price: $250
Released: 1995
Originally released under the Kenner brand (which Hasbro later acquired), this dual-dart launcher came with a measly $25 price tag. If you hung on to yours, though, it could be worth some serious cash. "Prices often go into the hundreds because it's a very desirable piece for modders and customizers," says Zahn of this Nerf crossbow.
Fully functional, albeit lacking the original packaging, this working bow is a rare find.
4. Nerf Rayven CS-18 (Light It Up series)
Average Price: $200
Released: 2012
The big gimmick here was the implementation of glow-in-the-dark darts and discs, and this compact, versatile blaster featured a clip mechanism that went behind the handle, making it a uniquely-designed, highly-accurate addition to any arsenal. If you've got one in the box, it can net you a few C-notes on the secondary market. Or, you can give modding a whirl, as the Nerf Rayven line is "very popular with customizers," according to Zahn.
New-in-box has such a nice sound to it, doesn't it? Try this one and see for yourself.
5. Nerf Master Blaster
Average Price: $200
Released: 1992
Now this is O.G. Nerf. In fact, its first iteration wasn't even a Nerf product — it was released in Europe as the "Gotcha Super Blaster." Featuring two barrels and eight ballistic balls (wasn't that your nickname in high school?), it was only sold for a limited time before being succeeded by the similar Action Ballzooka (wasn't that your nickname in college?) in 1994. "Adult collectors and enthusiasts are amassing huge Nerf arsenals," says Zahn. "But, unlike other collectibles, they're not usually kept in the box to be displayed. Instead, they're being used and modded." That's why the rarity and nostalgia factor make a boxed version of this pelting pioneer a prize among purists.
Box and original balls? Turns out you can buy nostalgia here.
6. Nerf N-Strike MEGA Mastodon Blaster
Average Price: $150
Released: 2016
As the first motorized Nerf MEGA blaster, this 24-dart delivering dominator features a gnarly rotating drum. Released in 2013, the MEGA line featured an assortment of blasters that launched specified whistle darts more than 100 feet. "Size does matter when it comes to Nerf enthusiasts," says Zahn. "The MEGA line is really, really popular. And the Mastadon, being a fairly recent offering, is a huge blaster with a lot of power and ammo storage." Too much dart gun for you? Try its little brother, the Megalodon.
You can almost smell that new blaster scent on this boxed model.
7. Nerf Combat Creatures TerraDrone
Average Price: $150
Released: 2014
Yes, Nerf makes drones. Or, rather, it made drones. Originally known as the "Attacknid" (well done, Nerf), this somewhat ill-fated creation didn't quite hit the mark. "The TerraDrone and TerraScout may have been just a few years ahead of their time," explains Zahn. "Combining RC with dart launchers was a great idea, but the initial $200 price tag put them out of reach for some families." The video function of the TerraScout, per Zahn, really brought the appeal of the emerging drone category into a new realm. "I'd love to see Hasbro revisit these ideas with current and future tech like HD cameras and smart device control. If Hasbro doesn't, there are other companies in this space who will."
Canada isn't too far for a gem-mint, in-box option like this one. Great white north, indeed.
8. Nerf N-Strike Elite TerraScout Recon
Average Price: $140
Released: 2016
Just like the TerraDrone, the TerraScout is almost too awesome for its own good. This clip-fed, 18-dart version was originally a Toys 'R Us exclusive upon release, but has now been made available on Amazon. At the time of its debut, the TerraScout Recon was the most expensive piece of Nerf gear ever released and, thanks to its distinctive features and limited release, it's only become more sought after in the years since.
More and more rare, this one includes all its parts.
9. Nerf Slingshot
Average Price: $120
Released: circa 1992
Packing three balls in its vertical chamber, the best one we could find on eBay is in Greece (and in a Spanish-language box to boot). Others have reportedly sold for north of $100. "Even the blasters that are devoid of motors and batteries have a lot of tech and science behind them," says Zahn. This slinger is a perfect example. While there's some debate regarding its actual release year (somewhere in the early 90s), the low-tech toy is a perfect example of Nerf's ability to twist a take on classics, such as our favorite stick-and-rubber-band standby.
This one may not include its original balls, but the important parts are there.
10. Nerf N-Strike Longstrike CS-6 Dart Blaster
Average Price: $110
Released: 2010
Known as Nerf's longest blaster at the time of its release, this lengthy Nerf Longstrike launcher was part of a "bolt-action" series that didn't exactly work out as planned. Design errors and constant malfunctions irritated users, as did the relatively weak firing power. "This one is known for having been discontinued pretty quickly," says Zahn. "It was only on the market for a short time, which can equal big bucks on the secondary market." Fun Fact: This blaster was actually first revealed in the Nerf N-Strike Elite video game, almost a year before it was released as a functioning blaster.
These have pretty quickly climbed in value, but gem mint options like this one are easy to find.
11. Nerf N-Strike Elite Rhino-Fire Blaster
Average Price: $100
Released: 2014
This double-barreled beast comes in two colors, white and blue, the latter of which is more desirable to collectors for a couple of reasons. First, it's known to jam up less during use. And, second, it was released as part of a Costco-exclusive value pack in 2015, which came with two extra drums, fifty extra darts, and was the first Nerf set to feature pre-packaged batteries.
Gem mint and never used, this one is ready for war.
12. Star Wars Nerf First Order Stormtrooper Deluxe Blaster
Average Price: $90
Released: 2015
The Force is strong with Nerf, and this 14-inch battle blaster takes full advantage of one of parent company Hasbro's most popular licensees. "Hasbro is great about cross-pollinating their brands, and licensing for Nerf is something that's really ramped-up in recent years," Zahn explains. "The Nerf Star Wars collection paved the way for that, and the First Order Stormtrooper Deluxe Blaster is a recent hit. My own daughters really enjoy the Star Wars range. With Episode IX being released this fall, we should see some new items before year's end." And after that? The Star Wars onslaught will still likely continue, and be joined by a new licensing powerhouse. Ever hear of Fortnite?
New. Never used. We can feel the force awakening with this one.