The Most Popular Toys This Holiday, According To Toy Store Owners
We asked the staff at three popular indie toy stores to predict the holiday's hottest toys.
by Mike Dojc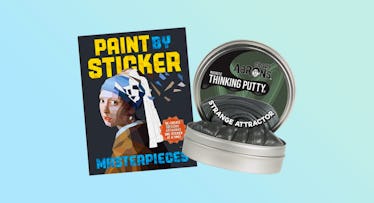 Savvy parents know that if you're seeking one of the most popular toys of the year, you need to shop early and wear elbow pads. Also, do your homework. By the time a legit frenzy develops and every kid is clamoring for the same kids toy for holiday gifts, it's usually too late ⏤ they'll be impossible to find.
RELATED: The Best Holiday Gifts for Dad This Season
Admittedly, word has already spread quickly about a handful of hard-to-get toys this season, and we're not even to Thanksgiving yet. We know that Fingerlings, those finger-hugging baby monkeys, are flying off the shelves. (Guess they're not holding on tight enough.) As is Luvabella ⏤ a doll that acts like a human baby ⏤ and the lastest double-trouble version of last year's most popular toy, the Hatchimal.
MORE: The Best Holiday Gifts For Under $50
But with a little more than a month to go before Christmas, it's likely that other toys will emerge as crazed-kid favorites. And we wanted to know what they'd be before everybody else. To find out, we contacted three of the country's top independent toy stores ⏤ Toy Safari in California, Minnesota's Lark Toys, and Playthings, Etc. in Butler, Pennsylvania ⏤ to ask what toys were already selling and what they predict will be flying off shelves this holiday season. Here's what they said.
Slow-Rising Squishies
Squishing, smashing, smooshing, and squashing these incredibly soft and slow rising foam toys may not exactly quell a child's anxieties ⏤ then again, neither did fidget spinners ⏤ but playing with them is almost as satisfying as popping bubble wrap. Who'd have thought that stress balls would become the holiday's most popular toy? It's true, kids are obsessed. They're shaped like pandas, loaves of bread, smiley clouds, unicorns, anything really, and the joy comes as much from the tactile sensation of strangling them as watching them slowly regain their shape.
What a Toy-Store Owner Says: "Every kid who walks in the door wants something squishable. We have a huge selection, and they just keep selling. I think it's safe to say stockings are going to be stuffed with squishables," predicts Helen Dean, owner of the Bay Area's legendary Toy Safari.
Paint-By Sticker Books
Part craft, part puzzle, this wildly engrossing (and meditative) number-matching craze is fun for the whole family. Instead of painting the numbers, you affix stickers to them instead so it's less of a mess. Not only that, but kids can get a crash course in art history with the Masterpieces 12-book series that includes Katsushika Hokusai's The Great Wave off Kanagawa, Renoir's Dance at Bougival, and ten other instantly recognizable works. No wonder it's one of the most popular toys this holiday season.
What a Toy-Store Owner Says: "Sticker mosaic art books are the follow-up to the adult coloring book craze," says Miranda Gray-Burlingame, co-owner of Minnesota's popular Lark Toys. "Instead of coloring, you're looking at a whole page of hundreds of little stickers in all these shapes, and you're using them to create a famous painting or an animal or any number of things."
Crazy Aaron's Thinking Putty
A major upgrade to old-school silly putty, Crazy Aaron's brainier Thinking Putty does way more than stretch, stick, and bounce. As in, it makes crazy effects (cosmic, glowing, liquid glass, etc.) and is reactant ⏤ so, shine UV rays on one and it will actually move toward the light. Aside from the cool chemistry and physics of the multi-faceted putty, there's also a feel-good element to the Pennsylvania-based company ⏤ it works with Philadelphia-area vocational centers to employ individuals with intellectual and physical disabilities. Demand for the putty has been through the roof lately, and they just opened a new factory.
What a Toy-Store Owner Said: "They also make a magnetic version that's pretty neat," says Tim Shingleton, assistant manager at Playthings Etc. "You set it next to a magnet, and it'll crawl over."
SpinAgain
Fat Brain Toys, another one of the most popular toys this holiday, is putting tiny tots in a trance with their unique twist on the old rainbow stacker. Long and short: It has a corkscrew pole. So instead of just stacking colorful plastic donuts on top of one another, these star-shaped discs spin down the threaded pole all the way to the base. And kids can sequence the varying-sized discs any way they want to. Not only that, but kids can either lift the pole out of the base or turn it upside down, and they all spin off.
What a Toy-Store Owner Says: "We've had to keep reordering and reordering," says Gray-Burlingame of this visually stimulating motor-skills booster for one-year olds. "It might be in the baby toy section, but adults really have as much fun as the kids do."
This article was originally published on