The Most Expensive Whiskey to Seek Out, According to Master Distillers and Experts
If you had the money, which dream bottle would be on your list? Here's what a group of the finest minds in whiskey had to say.
by Nicholas McClelland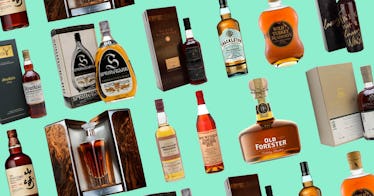 If you're a whiskey lover, chances are you've thought about splurging on a truly expensive whiskey — maybe not the most expensive whiskey in the world (at well over $500,000 a bottle), but certainly something storied and rare, with a price tag equivalent to its extravagance. Perhaps the most expensive bourbon with a half-century age statement. Or a bottle of scotch distilled and laid down in oak the year you were born. Pondering which expensive liquors we'd buy if we could is a fun thought experiment. Hell, we've added the Glenmorangie 1978 to our cart more than a few times only to have our decadent impulses shouted down by virtuous prudence. Still it's an important question: What are the most expensive bottles of whiskey out there? And which are truly worth the price?
Anyone can find the most expensive bottle of liquor by performing a quick Google search. But in order to find those worth buying, one must consider taste and experience. So, to find an answer to that question, we put the query to a group with a deep knowledge and understanding of spirits: whisk(e)y makers. We gave a group of the finest in their craft the hypothetical question, What is the most expensive bottle of whiskey you would buy if you had an unlimited budget? They were happy to oblige. While some bottles suggested were ultra-rare with a price tag to match, others, surprisingly, were less so. This goes to show you that not every dream bottle of whiskey needs to be inordinately expensive. Here, then, are 14 bottles of scotch, bourbon, rye, Japanese whisky, and more that should be on your dream list.
Glengassaugh 1965
Cost: Chosen by:GlenDronachBenRiachGlenglassaughWhy? My holy grail whisky is over 50 years old, distilled in the 1960s, and most likely matured near the coast. There are very few casks in the world that reach more than 50 years old, especially distilled in the 1960s. After more than 50 years of exceptionally complex and slow maturation, the malt transforms into a seductively silken and sublime elixir, with the luxurious taste of exotic fruits and honey, seamlessly interwoven with astonishingly refined and supple oak. This exceptional taste can be found in the extremely rare maturing and bottled treasures of very old Glenglassaugh and Bowmore distilled in the 1960s. I am extremely fortunate to have tasted both, the experience of which is priceless.
Old Forester Birthday Bourbon
Chosen by:Woodford ReserveCost: Why: Old Forester Birthday Bourbon is my pick because it's like the Goldilocks of a Vintage American Bourbon Whiskey —it's not too old, not young, not too sweet, not too oak spicy, it's just right! It never disappoints and each year is unique.
Pappy Van Winkle Family Reserve Rye
Cost: Chosen by:Pinhook BourbonWhy: When I opened by bourbon bar Char No. 4 in 2008 in New York, Pappy Van Winkle was still gathering dust on the shelves of retail stores. While it is easy to fall into the trap of saying the Pappy hype is overblown and that the bottles are not worth the price, my initial experience with Pappy was at a time when some of the expressions had a wholesale price of $40. I am happy to admit that I prefer rye to bourbon and even back then with little demand for Pappy, there was so little of the Van Winkle 13 Year rye that my restaurant only got 1 bottle per year. There is something so rich, decadent, complex and umami laden about the VW 13 Rye which I found to be a unique flavor profile that was also the penultimate representation of everything I love about rye. Regardless of the stratospheric pricing, I could justify the cost to get my hands on this amazing bottle and take a walk/drink down memory lane.
St Magdalenes Whisky
Cost: Chosen by:The GlenmorangieArdbegWhy: "One whisky I have spent money on a few times and love is St Magdalenes whisky. The reason it's expensive and rare is the distillery is now closed so it's like drinking a piece of history to me now, and lowland whiskies can be amazing but this one is sadly gone."
Compass Box This Is Not a Luxury Whisky
Cost: Chosen by: Barrell Craft SpiritsWhy: .
Midleton 45 Year Old Peated Single Malt, Very Rare Silent Distillery Collection
Cost: Chosen by: Teeling WhiskeyWhy: The bottle of whiskey I would most like to buy (and drink!!) would be a bottle from the first release of the Midleton Very Rare Silent Distillery Collection. This comprised of just 48 bottles of a 45-Year-Old Peated Single Malt Irish Whiskey distilled in 1974 in the Old Midleton distillery which confirms the old tradition of using Peat in the making of Irish Single Malts – a technique we have revived in our recent Teeling Blackpitts Peated Single Malt Irish Whiskey. I would be fascinated to taste how an Irish Peated Single Malt that old from a now-mothballed distillery tastes against our new Triple Distilled Dublin take on this ancient way of making Irish whiskey.
2016 Yamazaki Sherry Cask Finish
Cost: Chosen by: Heaven's DoorWhy: My favorite pricey whiskey has got to be the Yamazaki Sherry Cask Finish. The Japanese approach to blending is unmatched and the mature profile of their single malts pick-up the Sherry so elegantly. I bought this in 2016 in celebration of a hard-working business year, and have been nursing it ever since. Still more than half the bottle left!
High West's A Midwinter's Night Dram
Cost: Chosen by: Tommyrotter DistilleryWhy: If I were to reach outside of my own portfolio, my go to expensive whiskey is High West A Midwinter's Night Dram: a blend of ryes finished in French oak and port barrels. Some purists think a great whiskey shouldn't be adulterated with cask finishing, but I believe it can lend a complexity to the liquid that cannot be captured with traditional production processes. High West's MND is just a huge palate experience that is full of dark fruit and winter spices. Certainly more of an autumnal or winter whiskey, but, hey, I'm from Buffalo and it's cold here often.
1994 Wild Turkey Tradition Kentucky Straight Bourbon
CostChosen by: Kentucky Peerless Distilling Co Why? An amazing friend, Bill Thomas, owner of Jack Rose Dining Saloon in D.C. shared a dram of a dusty bottle of Wild Turkey Barrel Strength from 1994. This product had phenomenal barrel quality, with true depth and balance that truly made for an unforgettable experience. The balance of grain character, fruits, and florals, as well as beautiful barrel character made this one of the best whiskeys I have ever had in my life. This bottle is the representation of the great Jimmy Russell's legacy.
An Original Bottle of MacKinlay Scotch
Cost: Chosen by: BLACKENEDWhy: was abandoned. Three cases of Scotch were recovered in 2010, over 100 years later, and the recipe was reverse engineered by renowned blender Richard Patterson, and re-released as 'Shackleton's Blended Scotch Whiskey' (Editor's note: listed below) What a treat it would be to taste and own such an incredible part of history!
Black Bowmore 1964 — 42 Year Old The Trilogy
Cost: Chosen by: Laws Whiskey HouseWhy: First off, I love Old Bowmore— anything above 25 years where the taste of Islay integrates into the sherry finish. It's divine. So the rare Black Bowmore promised so much more.
It was my 40th birthday (some years ago) and all I wanted was a cool bottle of whiskey. When I saw the release of the Black Bowmore… I knew that was the one. I asked a good friend that owned a liquor store to track one down for me. Even my wife said "yeah, sure" until her curiosity had her browse the bottling and look at the price. It was at my fingertips… and then came the "no way, are you crazy?" Sigh!
Months later I was able to try the 42-Year-Old release in Zurich at the Widder Hotel— just one ounce. The bartender sold me the dram for half the price given our deep discussions of the amazing whiskey selection. I sipped it for a long time. It was awesome, and yes, I still want that bottling over 10 years later. While my wife still thinks I'm crazy, I do think if time travel was possible and we went back to that moment, she would have reversed the "no". But of course, we'll never know and I will likely never get to taste it again.
Laphroaig 30-year-old
Cost: Chosen by: Lost Lantern WhiskeyWhy? If there was one whiskey I could buy at any price, I would return to my first love, Scotch, and go for either a Laphroaig 30-year-old or a Brora 40-year-old. The delicate smoke of a really long-aged Islay is unusual and spectacular, and I love the mystery and romance surrounding distilleries that closed before I was born. And they're a lot more unattainable than all but the most expensive American whiskies.
Springbank 50 Year Old Single Malt Scotch
Cost: $200,000 (est) Suggested by: Balblair Why: I would love to try a Springbank 50 year old. Casked 1919 and bottled 1970. One went for about £180,000 a while back. I have long been an admirer of Springbank. Was once interviewed for the manager's position a long time ago. Amazing distillery. The oldest Springbank I've had is a 37 years old and it was tremendous. If only I had the salary to afford such pleasures!
Strathisla 1965, 50-Year-Old Gordon & Macphai
Cost: Chosen byAberlourWhy? Gordon & McPhail, a whisky distilled in the year of my birth, in my hometown and produced by people I knew and learned so much from in my early days of distilling – this is priceless! This bottling, which is an affordable 50-year-old whisky (some brands may be 30 times the cost), was also produced in the year the distillery doubled its capacity by adding another two stills (steam heated as well as the established coal fired stills).