The MorfBoard Skateboard Transforms Into a Scooter, Balance, and Bounce Board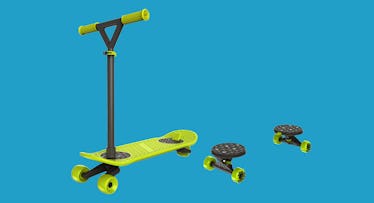 Skateboards skate and scooters scoot. Rarely does one do both. Which is why the MorfBoard from JAKKS Pacific is so cool. It's a skateboard that not only converts into a scooter, but also a balance board and even a bounce board for catching big air. This means parents get four boards for the price of one, while kids can hone their skills indoors or out, rain or shine, all year long.
The whole concept is pretty straightforward: The MorfBoard is an 8-inch plastic yellow skateboard deck (smaller than traditional boards for younger riders) with a cored-out truss pattern (for a stickier grip) and two giant holes, in which different wheelsets can be locked in place depending on what your kid wants to ride (MorfBoard calls these exTensions.) So if it's a skateboard day, simply drop in the 53mm skate wheels with aluminum alloy trucks and twist until they click. The patented "Lock & Release" system ensures the wheels latch safely place, and removing them is just as easy ⏤ press the button and turn. It takes a few seconds at most. To convert to a scooter (which has fatter wheels), you'd also lock in the fully adjustable handlebars and pressure foot brake.
Once you have the base kit ⏤ which includes the skateboard and scooter ⏤ you can buy the other xTensions separately. The Balance kit comes with two safety blocks to cap the holes and a balance roller off which to fall repeatedly until you get it down. The Bounce xTension allows the board to be ridden sort of like a snowboard with adjustable padded foot straps/bindings. The attached two rubber balls are designed to let riders practice their 180s or 360s or whatever number of spin they can do without wiping out on the grass.
The skate/scoot combo costs $100 while the extensions run $40 each. All are available at Toys 'R' Us, Target, or online at Amazon.
This article was originally published on