The Best Montessori Toys for Babies and Toddlers
(And a little bit more about what Montessori even means.)
by Donna Freydkin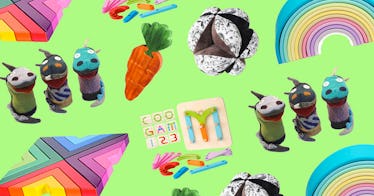 Just because a toy is wooden, or looks like it belongs in a museum as opposed to an actual playroom, doesn't make it Montessori. In fact, the best Montessori toys are kid-sized versions of stuff that kids see around them, as opposed to outlandish light-up robots or talking dogs.
"Montessori toys are grounded in reality, as little ones learn about the world around them. They are made of natural materials, are simple in design, and are child-powered, not battery-powered," explains Stacy Keane, the head of learning at MontiKids, an at-home Montessori program for kids up to age three. "Electronic toys with lights and sounds can put a child into passive mode, as they push a button waiting to be entertained. Montessori toys require a child to activate them."
In other words, a Montessori toy, like a simple wood car, requires your child to push it around, to move it, to park it, and be fully engaged as he or she figures out how the thing works. The benefits of playing with Montessori toys are myriad: They help toddlers develop their fine and gross motor skills; they teach them about cause and effect; they encourage deep exploration, as children engage with the toys — as opposed to the toys engaging with them. And they challenge kids, as they learn how to place the ring on a stacker or that the square peg doesn't go into the round hole.
But here's the thing, parents. Chances are, you've done a Google search for Montessori toys and realized that any car or ball or rattle that isn't plastic claims to fall under the very broad Montessori umbrella. In fact, "any company can claim to be Montessori," says Keane.
So don't assume that because a brand describes itself as Montessori, it's legit. When choosing Montessori toys, keep things as analog as possible: Toys made of natural materials like wood or bamboo, without any batteries, that are simple by design. And instead of dumping a ton of stuff into the playroom, limit your child's choices so he or she can focus on a few toys at one time to really be able to concentrate and explore. You can swap them out as babies grow and when kids get bored or tired of them.
The Best Montessori Baby Toys
The Best Montessori Toys for Toddlers
Every product on Fatherly is independently selected by our editors, writers, and experts. If you click a link on our site and buy something, we may earn an affiliate commission.
This article was originally published on