The Behemoth Mega Grave Digger Is the Monster Jam Truck Of Your Dreams
The newest RC Grave Digger leaves its predecessors in the dust.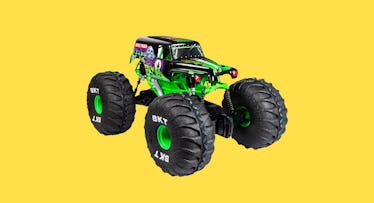 For remote control car aficionados, there's nothing bigger or better than Monster Jam trucks. Except maybe a mega new Monster Jam remote control truck that's two feet long and mauls anything stupid enough to stand in its way. It's billed as the biggest one you can buy. Just for reference, it's roughly the size of tortoise. And about 900 times as fast.
Modeled after one of the most popular monster trucks on the Monster Jam tours, this remote control replica is the largest, fastest, and most powerful Grave Digger on the market. With its authentic graphics, oversized BKT tires, and working lights, your child will be ready to enter racing and freestyle events in no time.
It not only looks like the real thing, but it drives like it too. The 2.4GHz frequency dual joystick controller makes it easy for adults and kids to maneuver the over two foot long truck in any direction, from as far as 250 feet away. The custom rubber tread provides superior traction control and the mega-sized shocks and suspension make it virtually unstoppable on and off the road, essentially ensuring a Double Down trophy for the lucky driver.
Oh, you have hills in your yard? Or perhaps a rock garden? The Mega Grave Digger can roll over any obstacles in its way, thanks to its lightweight design, massive tires, and the aforementioned rubber treads. This thing is the definition of hell on wheels.
TheMonster Jam Mega Grave Digger RC can easily be recharged with the built-in USB cable. Recommended for kids four and up, it requires two AAA batteries for the remote control.
And at least in this case, helmets not required.
Every product on Fatherly is independently selected by our editors, writers, and experts. If you click a link on our site and buy something, we may earn an affiliate commission.
This article was originally published on