This Smart Diaper Sensor Tells You When Your Baby Poops
Never sniff a diaper again.
by Dave Baldwin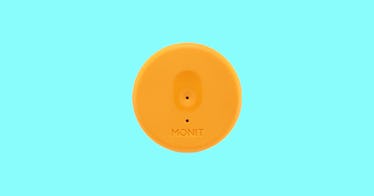 Somehow, despite modern technology, the best way to tell if a baby has a dirty diaper is still to sniff their butt. A new Korean startup, however, thinks it's time for parents to evolve. And to help, it's developing a Bluetooth-enabled sensor that alerts them when it's time for a diaper change.
The brainchild of six dads (all former Samsung employees) eager to combat diaper rash and atopic dermatitis, Monit is a small puck-sized device that measures temperature, gas, and humidity. It uses proprietary algorithms to interpret the data and can reportedly detect in real time when a baby has filled their Pampers. Then, it sends a message to an accompanying smartphone app to ensure the kid doesn't spend hours languishing in their own poop.
READ MORE: The Fatherly Guide to Poop, Diapers, and Potty Training
'Smart diapers' are a growing trend. But unlike other recently unveiled prototypes, Monit doesn't fit inside the diaper or touch the child's skin. It attaches to the outside instead, although it's unclear exactly how it doesn't fall off in the middle of the night. It's also non-disposable. In fact, when the kids are finally out of diapers altogether, the device can be used as an air quality and temperature monitor that syncs to your phone.
Monit debuted at last year's ABC Kids Expo, and while few details are available about production, it's reportedly scheduled to go on sale this August.
h/t: Techcrunch
This article was originally published on