Cargo Container Swimming Pools Ship Summer To Your Yard
Summer never felt so cool.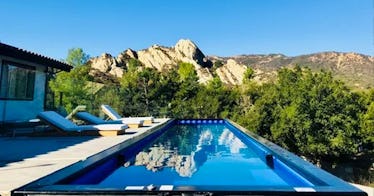 modpool.com
Once upon a time, shipping containers were used exclusively to ship stuff. Diapers, Air Jordans, your favorite cargo shorts: All of it arrived on a freighter in a giant metal box. Somewhere along the way though ⏤ and we credit/blame the Dutch ⏤ those same containers started being repurposed into other non-shipping things, like tiny homes, and hydroponic gardens, and hip offices for edgy design companies. Everywhere people started living and working in recycled containers. And now, thanks to one Canadian company, there also swimming in them.
Unlike the popular fad sweeping Instagram of using livestock tanks as swimming pools, Modpools are made out of metal shipping containers that just arrived from China. As in, they unload all the boxes of Sphero Interactive Spider Men and fill the damn things with water. Almost. The containers actually have to be strengthened before they can hold 4,800 gallons of water.
The patent-pending Modpools come in two sizes ⏤ 8×20-feet or 8×40-feet ⏤ and are 5'2″ deep (so no diving!). They're outfitted with eight jacuzzi jets, color-changing LEDs, and a powerful heater that can turn the whole thing into a giant hot tub at the touch of a button. A button, of course, on your smartphone ⏤ because that's where you control the jets, heat, and lights. There's also a divider to split the tank between swimming pool and jacuzzi and a pump kit that turns the pool into one of those Endless Swim Spas so you can do your morning laps.
Setup is reportedly as easy as dropping the box in the backyard (with a crane and local contractors, of course) and plugging in both a natural gas line and electricity. It can go in the ground, above the ground, or half way ⏤ you just need a concrete slab or 8-feet of compacted gravel. Word of warning, though: going all in-ground does negate the benefits of the 4×8-foot window that's cut into the middle and essentially turns your new Modpool swimming pool into a kid-quarium. Keep that in mind when ordering. Finally, it uses an ultraviolet water sanitation system so once it's filled, you're ready to swim.
At a starting price of $27,000, Modpools cost about half that of a traditional in-ground pool, but $26,500 more than one of those livestock pools (just saying). They take six to eight weeks to deliver but ⏤ like your modern shed mancave ⏤ have the added benefit of coming with you when you move. Depending on where that is, you'll probably just put it in on another shipping container.
This article was originally published on