How to Dress Like Tom Cruise in 'Mission Impossible'
IMF agent Ethan Hunt may play it fast and loose on missions, but his clothing is always on point.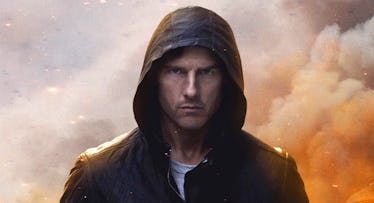 The key to being a good movie spy is fitting in no matter the surroundings, so it makes sense that the key to good movie spy style is looking good no matter the sartorial situation. The ability to look good in a variety of outfits is a big part of what makes movie spies like Ethan Hunt, Tom Cruise's character in the Mission Impossible films, fashion icons.
Over 22 years and six films, including the soon-to-be-released Mission Impossible: Fallout, Cruise has rocked suits, tactical gear, tuxedos, and plenty of leather jackets while playing Hunt. As one of the best-dressed characters in one of the most successful franchises in movie history, Hunt's style should inspire all guys who want to look their best. The fact that Cruise is 56 with three kids means that dads in particular should take notice.
Here are some of our favorite pieces from the recent Mission Impossible films that can up any dad's style game.
The Hooded Leather Jacket from Ghost Protocol
Hunt's hooded silhouette has become a recurring image over the past few Mission Impossible films, and this jacket is a sterling example. The hood, which helped keep the Impossible Mission Force's leader incognito as he slipped in and out of dangerous situations, will also help keep you warm and dry on late night diaper runs.
The Persol Sunglasses from Ghost Protocol
These classic Persol shades worn by Tom Cruise in Ghost Protocol kept the sun (and sand) out of his eyes when he was sprinting around Dubai. But their classic silhouette works well during any moment. These, after all, come from the brand who gave Steve McQueen his effortless cool.
The Tudor Heritage Chrono Watch from Ghost Protocol
A great watch is one of the most versatile pieces you can own. Cruise rocks this one with white pants and a dark button down, but it would look just as great with a suit or tuxedo. At nearly five grand, it's definitely an investment, but if you're in the market for a quality timepiece you could do a lot worse for a lot more money.
The Tacky Shirt from Rogue Nation
The costume designer made this shirt Cruise wears from fabric she found in east London, so unfortunately you won't be able to wear the exact shirt. Nevertheless, the lesson is clear: if worn with confidence (and a great pair of dark pants), nicely patterned floral shirt can do wonders. We dig this one from H&M.
The Grey Suit from Rogue Nation
The suit, worn by Cruise as he clings to that airplane in the beginning of Rogue One, was custom-made with reinforced seams that could withstand such intense wind. This Armani suit is a close copy. Just know that it will likely rip if you spend time hanging from a fuselage.
The Leather Jacket from Rogue Nation
This jacket, which Cruise wears for the majority of Rogue Nation, is all about the texture. Purposely textured to appear as though it has wrinkles, the jacket, made by Barney's has a well-worn, timeless feel.
Every product on Fatherly is independently selected by our editors, writers, and experts. If you click a link on our site and buy something, we may earn an affiliate commission.