Mission Critical Is A Military-Grade Tactical Baby Carrier Designed Specifically For Dads
by Dave Baldwin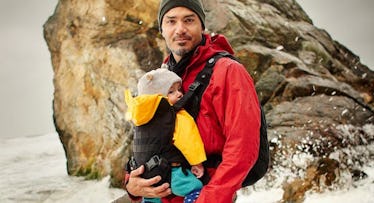 Admittedly, it's rare that you'd strap your baby onto your chest with a tactical baby carrier to do anything more strenuous than take a brisk stroll through the mall. Maybe you'll go as far as some light hiking. But, you're definitely not busting down the door of neighborhood meth lab with a one-year-old sidekick (he only had one more day until retirement!). If you were to do that, the Mission Critical Baby Carrier is the one you want to be wearing.
RELATED: The Best Military-Style & Tactical Baby Gear for Dads
At first glance, the 1000D nylon outer shell of Mission Critical's military grade baby carrier might be mistaken for Kevlar. It's an honest mistake — the thing absolutely looks like something the SWAT team would wear on "Take Your Daughter To Work" day. While these 7 baby carriers are definitely dad-friendly, this one is designed specifically for guys; both active dads who need a piece of tough high-performance kit for their many outdoor adventures, and less active ones, who just want to look totally badass walking through Pottery Barn.
In fact, for those wearing it to hump up a mountain, the MOLLE webbing system allows you to attach Mission Critical's daypack or backpack. It simply locks on the back and — depending on how much camping gear and diaper cream you stuff inside — it balances the weight so your back isn't wrecked by the end of the hike.
Depending on their age (3+ months), weight (up to 35 pounds), and feelings about strangers, your kid can ride either facing in or out. The carrier includes both a soft removable and washable interior liner, and zippered front pocket for your phone or wallet. And it also hides a removable sun shield, in case you're in desert combat. If you do find yourself in a big paintball battle, Mission Critical boasts a "stair-cased air mesh webbing for better air flow/comfort." That means no more infant-sized sweat stains.
This article was originally published on