Mini Unit Beams and Brick Sets Let Kids Build Epic Suspension Bridges
by Dave Baldwin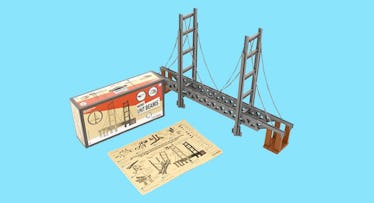 In the hierarchy of building toys, wooden blocks sit at the bottom. They're simple in design, most often targeted at infants, and, while kids have been playing with them for centuries, they inevitably get set aside for more advanced building bricks. There's a good reason Lego is one of the most popular toys in the world. As such, innovating the wooden block hasn't been a high priority on toymakers' To-Do lists. And that's why Mini Unit Bricks stand out ⏤ they're wooden blocks but with cool an engineering twist.
Mini Unit Bricks are traditional blocks made of sustainable wood and scaled to tiny hands. They come in myriad shapes, look like real-world building materials (wood, brick, or rocks), and stand out from competitors thanks to hand-carved grooves that both delineate unit measures and "feel great" when you run your fingers along them. Simple enough. They're sold in a number of different sets including a 72-piece Architect, a 100-piece Rocks, and 40-piece Builder that range from $55 to $300.
Where Unit Bricks really stand out, however, is with its new Mini Unit Beams. Designed to promote STEM learning and more advanced logic and problem-solving skills, the 1/8th-scale plastic bricks look like steel beams (but without the tariffs), are compatible with Unit Bricks and Rocks, and allow older kids (6+) to build ridiculously awesome suspension bridges, working cranes, and even the Eiffel Tower.
There are a handful of kits currently available: a basic 25-piece set that "mimics real life steel connectors" and is designed for younger kids; a detailed 178-piece ship-to-shore container crane with 15 different shaped pieces; a massive Brooklyn Bridge-inspired suspension bridge with more than 620 pieces and tensioned plastic cables that can also be used to build a smaller cable-stayed bridge. Mini Unit Beams are available online and start at $35.
This article was originally published on