This Sleek Solar Men's Watch Is Made Of Recycled Plastic Bottles
And it charges by candlelight. Really.
by Jon Gugala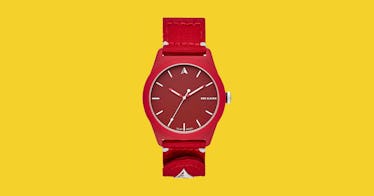 When it comes to men's watches, the sky's the limit. But so, too, are the numerous byproducts that come through the watch's construction and life cycle, from the leather to the plastic to the batteries themselves, which need to be "replaced"—really just thrown into a landfill—periodically. The folks at One Eleven believed there must be better way, and its eco-friendly, good-looking, solar-powered SWII is proof of concept.
Rather than one-time-use batteries, the SWII recharges continually by light. Sure, solar power is great when you're out and about, but it also powers up by candlelight, fluorescent light, and just about any other light you'll encounter. The benefit is two-fold: first, no more mall kiosks with a dead watch in hand, and second, a timepiece that truly allows you to set it and forget it.
The nylon band also has its own eco-friendly story, as its base material is comprised of recycled plastic bottles. Called "rPet," these one-time empty containers are getting a second life rather than a far-off incinerator, reducing the company's need for raw ingredients.
Even the plastic case of the SWII has its own story. The "bio-plastic" is molded from castor bean oil, which offers similar performance to its petroleum-based cousin with a fraction of the environmental impact.
Of course, all the green initiatives won't mean a hill of beans if the resulting product doesn't look and perform well. Its 42mm case is handsome and in the style of classic field watches, while the myriad color options allow you to blend in or stand out as you please. A hardened mineral crystal rebuffs scratches easily, and the Japanese quartz movement is precise and requires little adjustment in between Savings Times.
While hardly a dive watch, we also appreciated its respectable 100-meter (aprox. 300 feet) water-resistance. While plenty of companies are looking for a way to go green, One Eleven was founded on the principle that classic good looks and reliable performance can be lighter on the environment. Its SWII epitomizes this, offering a watch that's both easy on the eyes and the environment.
Every product on Fatherly is independently selected by our editors, writers, and experts. If you click a link on our site and buy something, we may earn an affiliate commission.
This article was originally published on