These Stretch Jeans Are Better Than Regular Jeans in Just About Every Way
From riding a bike to practicing your Chuck Norris kicks, these jeans will keep up with whatever you're up for.
by Sal Vaglica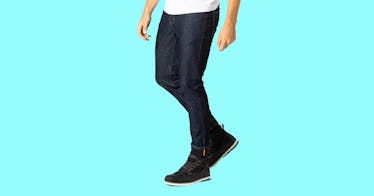 Jeans are the backbone of a guy's wardrobe, and for good reason. They're rugged, come in several sizes, and age gracefully—kind of like you. But it can take a while to break in a stiff, new pair till they develop that freedom of movement and comfort that hard-worn denim provides. If you plan on going for a bike ride, maybe a hike, or just want to get down on the floor to play with your kid in jeans without things feeling tight, you'll want a pair of men's stretch jeans. They will fast-track your ass (and thighs) to comfort town.
Don't worry, we're not pushing yoga pants. Stretch jeans—sometimes called flex or adventure pants—are still mostly cotton, and the better ones look like a traditional pair of Levi's from across the room. But read the tag: Woven in there with the denim is usually elastane, spandex, or Lycra (three names for essentially the same fiber), or polyester. These synthetic fibers give the pants flexibility.
Most jeans are two-way stretch, so they give left to right across the seat and thighs, but won't really move north and south. This is typically enough freedom of movement for most guys who want to bike, jet up a flight of stairs, or practice squats in the living room (in jeans, for some reason). Four-way stretch is exactly as it sounds—the fibers are woven so the pants move in every direction for maximum movement. Kind of like wearing sweat pants, but made out of denim that looks sharp enough to go to dinner in.
Our favorite men's stretch jeans are from DUER. They have a slimmer fit and darker colors so they look like a pair of modern jeans. With Lycra added in—a scant 2 percent, which is about average for these kinds of pants—and a bit of polyester, they allow for enough freedom to bike commute to work and in any weather. A lining inside is wind and waterproof so you'll stay comfortable no matter the forecast.
The Best Budget Stretch Jeans
The Best for Maximum Movement
The Best for Getting Work Done
The Best Stretch Jeans for Traveling
The Best Stretch Jeans for Hiking
Every product on Fatherly is independently selected by our editors, writers, and experts. If you click a link on our site and buy something, we may earn an affiliate commission.