Rugged and Stylish, Hiking Shoes for Men Are How to Hit the Trail in 2021
It's time to rethink what a hiking boot can look like.
by Sal Vaglica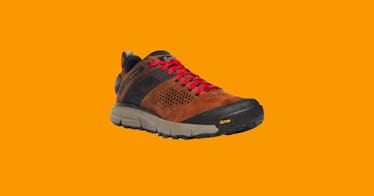 Close your eyes and imagine a pair of hiking boots. If what comes to mind is an earth-toned dump truck for your feet, it's time to rethink what hiking shoes for men can be. Sure, those toothy, insulated, high-cut boots are what you need for multi-day camping trips in colder weather, but they can be overkill for shorter day treks.
If you plan to hit the trail at all this summer, you'll want a hiking shoe that blurs the line between a day hiking boot and a trail running shoe. Hiking shoes for men are generally lighter-weight — most hover around 13 ounces per pair — and brands are infusing these capable shoes with style, so you can hit the coffee shop or pub after the hike and not look out of place.
For our money, the Danner Trail 2650 tops the list of men's hiking shoes — as adept on the trail as they are comfortable and good-looking. Under that warm-tone leather upper and those bright-red fat laces are shoes that make you feel like you've been wearing them for months — even fresh out of the box. The squishy midsole and form-fitting insole provide cushion for your feet, while the reinforced heel prevents them from moving around, which helps give you confidence on more difficult routes. On the trail, they grip and keep you steady on all sorts of surfaces for hours on end, yet they're comfy enough to pair with jeans before you head out for the night.
The only knock on the 2650s? They're not waterproof, which is likely what you'll want for a damp spring hike or when the weather is sketchy. Luckily Danner makes versions of the 2650s that are waterproof. Here are some other new waterproof hiking shoes cut from a similar cloth: technical enough for the trail, with enough style for the street.
Every product on Fatherly is independently selected by our editors, writers, and experts. If you click a link on our site and buy something, we may earn an affiliate commission.
This article was originally published on