What Belongs in Every Men's Grooming Kit, According to a Top Hollywood Stylist
You can look put-together, without ever leaving the house. Yes, it's that easy.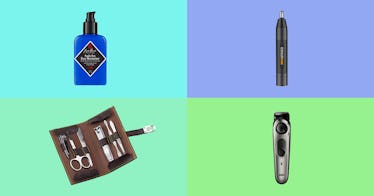 Yes, your sweats may be surgically attached to your body at this point and yes, your hair likely resembles Tormund Giantsbane's incredible, muck-covered mane. We get it: The Covid-19 lockdown is tough. But even though barbers are closed for business at the moment and there's not much motivation to look good because you're not going anywhere, self-care is vital. In other words, men's grooming matters and you need to keep it up. And if you get the right men's grooming kits, you'll be ready.
"It's extremely important for people to keep themselves up during this time," says Marissa Machado, a Hollywood stylist who works with such clients as Oscar winner Rami Malek and the Jonas brothers. "Think of it as more of a mental break. You have to stay motivated to care for yourself. It lifts you up."
In general, Machado is a big believer that how you look also reflects how you feel. "Men can get lazy and let facial hair grow out. All of the sudden you look in the mirror and don't know who you are. It's important for men to keep up their grooming routines even when you're not able to get a haircut," she says. "You'll look put together."
The bonus to being in lockdown: You won't be judged by sneering coworkers or drunk friends. So use this time indoors to try some new things. "If you've always wanted to shave your head, do it now because no one else is going to see it. Take some risks. Try a beard. Try a mustache. Don't let yourself slack," she says.
Here are the tools every guy should have on hand, per Machado, and how to use them.
The Best Beard Trimmer
Shape lines. Keep length in check. A beard trimmer is one of the most useful grooming tools in a man's arsenal. One trimmer that Machado likes in particular is the Esquire Grooming Beard Trimmer because of how multi-faceted it is.
"It's got different top heads. One is a nose trimmer. One takes down the beard. Another gets in the areas around the mouth," she says. "You can do everything with this thing. Men should pay attention to their noses, to the hair there. A lot of men, neglect those areas."
A Great Ear Hair Trimmer
If your ears are on the hairier side, you need a dedicated tool to keep any growth in check. "Micro beard trimmers are great for ear hair and the tops of the ears and the lobes," says Machado. "Those are great to have around the house always," says Machado.
A Solid Face Moisturizer For Men
"Men always need to have a nice moisturizer," says Machadao. "If you can get them to use one nice one to apply daily with SPF, you're really winning there."
A product with SPF 15 or higher does the job.
A Workhorse Set of Nail Clippers
Most men can get away with having a basic set of nail clippers. But if you can, step it up and get a full kit that keeps your digits looking smooth.
"Get a male nail kit — a nail clipper, a file, and a cuticle clipper," says Machado. "That way you have everything you need."
And if you're feeling daunted by the idea of dealing with your nails in real life, don't be. It's not complicated, and is actually pretty damn relaxing.
"Soak your feet for 10 minutes. Just use a pump of soap and hot water and a bucket. Soak your feet and start cleaning around the edges. Get the dead skin off — you can just go under the toenail and around the side and you'll get a lot dead skin off," says Machado. "Couples should trade off and give each other pedicures."
Every product on Fatherly is independently selected by our editors, writers, and experts. If you click a link on our site and buy something, we may earn an affiliate commission.
This article was originally published on