This $30 Ducati Erector Set Is The Throwback Toy of Our Dreams
It lets kids assemble a modern superbike in a very old-school way: by lining up pieces and tightening bolts.
by Hudson Lindenberger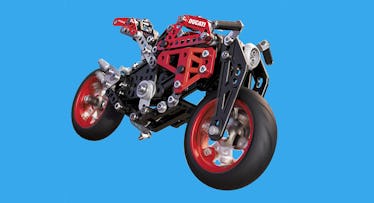 We live in the golden age of building toys. There are sets that let you piece together robots that rumble and respond to requests. There are to-scale architecture sets that allow you and the kids to bust out your best I.M. Pei impression. There are 2,000 plus piece Lego sets that let you assemble the fastest hunk of junk in the galaxy. They're all amazing. But sometimes we want a bit of old-school charm, something that harkens back to our youthful basement tinkering days. Well, Meccano-Erector's Ducati Monster 1200 S set fills that desire in spades.
Erector as in those metal-building sets that have been around since 1913? You betcha. Since its purchase of the Erector Set brand in 2000, toy company Meccano has slowly been working to reintroduce the storied brand to the American public. And by upgrading the parts used in the kits and revamping their designs, they succeeded in making them relevant again.
The Ducati Monster 1200 S is a 10.2-inch long scale-model recreation of the gnarly Italian sport bike. The set features 292 metal parts, a pair of building tools, and a set of decal stickers to apply. The finished model has a working suspension, multi-piece wheels, and fully functioning steering column. Hell, even the kickstand deploys to keep the ride upright.
Of course, the joy of Erector sets was always in the realistic assembly. And the building process here, which instead of a simple snap requires bolts to be tightened, and pieces lined up exactly right, is extremely satisfying. It also teaches kids how to plan beforehand, problem solve, and get used to using tools.
Speaking of which, the Ducati is meant for kids 10 and older. But, if you're around to build it with them, younger kids can certainly get the hang of it. In any case, the kit takes a total of three hours to complete. Best of all is the price: you can score the toy for just $30. Considering the price of a real Ducati is more than $17,000, that's a hell of a bargain.
This article was originally published on