This First-Ever Integrated Car Seat Will Make Traveling With Your Baby So Much Easier
The Maxi-Cosi Coral™️ XP is one next-level car seat.
by Emily Kelleher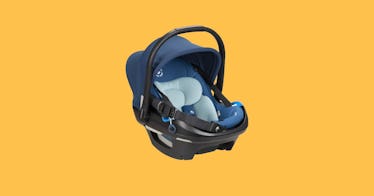 This story was produced in partnership with Maxi-Cosi.
We have to be honest: lifting weights has nothing on the kind of stamina and strength it takes to maneuver a freshly baked infant around town in their car seat and carrier. Car seat and carrier designs appear to seamlessly work together. If you've ever wrangled an infant, a purse and a bag of groceries, you know reality is often a little…different.
But with the new Coral™️ XP from Maxi-Cosi, parents are in for a convenient safety treat. The Coral™️ XP is a first-of-its-kind integrated car seat and carrier, with a lightweight inner carrier that can be easily removed from its outer carrier shell, along with a host of other innovative features. Maxi-Cosi, you had us at "safe, lightweight and convenient."
Why Maxi-Cosi?
For 35 years, the folks at Maxi-Cosi have been making parenting a little easier. Their products are designed to allow you to go where you need to go with your kids and spend less time thinking about how you're going to get there. Every product – from car seats and strollers to high chairs and rockers – is intuitively designed and tested with real-life parenting in mind.
In addition to their thoughtful design, Maxi-Cosi offers innovative sustainability, safety and comfort features we want in our baby products. With the introduction of PureCosi™️ they've started and will continue to offer fabrics that are machine-washable, without wool or any added fire retardant chemicals. Maxi-Cosi also exceeds government safety standards. (When it comes to safety, we love overachievers.) And their carriers and seats come with premium features like memory foam padding and soft, plush, breathable fabrics, so baby is as comfortable as possible. And we all know a comfy baby is a happy baby.
Introducing The Coral™️ XP
What's different about this one? Well, it's just like any other car seat. Except not. If you doubted these car seats are designed by parent brains, the Coral™️ XP will make you a believer.
Essentially, with the push of a button, you can now easily remove a lightweight (around 5 lbs.) inner carrier from the outer car seat shell, wear the strap cross-body, and walk around with your baby – without having to somehow come up with a third hand. You can move around the way you want to, thanks to the Coral™️ XP's four carrying modes: cross-body carry, handle carry, standard carry and stroller carry. When they say they're giving parents a hand, uh, they're not kidding. The cross-body flex-strap is the first of its kind. It allows you to ditch the bulk and bring your baby with you as you get things done. When you're ready to move on, effortlessly clip it into the outer carrier car seat shell or stroller.
This Is A Game Changer
First of all, we are shooketh. If you became a parent before the Coral™️ XP, you're going to want to have another baby just to experience this sweet freedom. (Ok, not really. Don't do that.)
Think of the ways this could work for you. Like those times when you need to run into the store for literally two minutes. Or when you're juggling five things and desperately trying to make it from the car in one trip. And we all know the struggle of having a baby who's finally fallen asleep and having to jostle him out of the car seat. The Coral™️ XP is perfect for so many "help me!" scenarios.
Once you become a parent, you realize pretty quickly there are things you never even knew you needed. This system is so brilliant, you'll wonder why someone didn't think of it earlier. Thankfully, the folks at Maxi-Cosi are parents, too.
The Coral™ XP is the first-ever integrated car seat and carrier nesting system that's built to help parents move about effortlessly. Shop or learn more at MaxiCosi.com.
This article was originally published on