Mattel's New Robotic Raptor Is a Very (Very) Clever Girl
Finally, a velociraptor you won't have to hide from in the kitchen.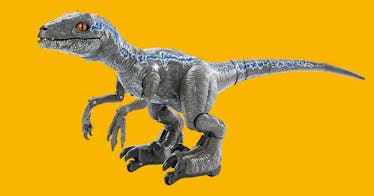 Blue the velociraptor is one of the few dinosaurs in the Jurassic Park saga that is actually trained. Does she listen to Chris Pratt all the time? No, she's an ornery killing machine. But she does learn, which is what makes her a natural choice for a new, trainable robotic toy from Mattel. The toy, Alpha Training Blue, is a learning robot that kids can train to perform tricks and other such tasks. By all accounts, the new robot appears to be a very clever girl.
Mattel's Alpha Training Blue stands a little over a foot tall and weighs six pounds. She has her namesake blue stripes running down her grey body and orange eyes that move around and blink. She can turn her neck from side to side, move her tail, and open her mouth to roar. Wheels on her feet help her move around.
Physically, Blue would look good as a model left on a shelf, but she's packed with interactivity Blue has four modes, each with a different play style that shows off distinct features of the toy.
Training mode, for instance, utilizes the accelerometer in the included remote control. Blue will mimic how you move the control, gradually "learning" more elaborate movements and better behavior when you use the remote to give her "treats" or make a noise that gets her attention.
Guard mode utilizes Blue's built-in motion sensors. Leave Blue in one place and anything that moves within a foot of her will cause the controller to vibrate. You can then use it to warn the "intruder," an especially fun prospect if that intruder is a skittish or untrusting pet.
RC mode lets you use Blue like a traditional RC toy, steering her back, forward, and side to side with the joystick on the remote. And finally, Total Control Mode lets you use the remote to control every one of Blue's movable body parts. Just don't think you ever have total control over a real dinosaur. Life, uhhhh, finds a way.
Alpha Training Blue is available for preorder on Amazon now. It will be released on October 1. At $250, it is a big investment.
Every product on Fatherly is independently selected by our editors, writers, and experts. If you click a link on our site and buy something, we may earn an affiliate commission.