MindRacers Lets You Race Real Hot Wheels On a Wild Virtual Track
Mattel's teamed up with Osmo to let real die-cast cars race on screen.
by Dave Baldwin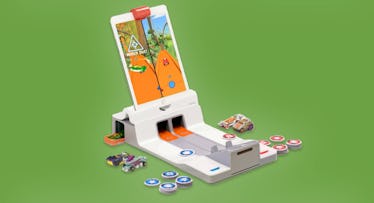 It's tough to argue that classic Hot Wheels cars needed a 21st-century digital reboot. The orange track, the loops, the launchers ⏤ it'll always be one of the greatest toys you can pull from a stocking on Christmas morning. But with a generation of kids who'd rather reach for a video game or a tablet than snap together pieces of orange track, giving it a modern refresh makes sense. At least that was the thinking behind Mattel's decision to team up with educational-game gurus, Osmo, and turns Hot Wheels cars into components of a rad augmented reality video game.
Launched yesterday, MindRacers essentially lets real Hot Wheels cars race on screen. The race starts as it would with any traditional Hot Wheels track, by releasing two die-cast cars down the launch pad ramp. The big difference here, however, is that at the bottom of the short track both cars disappear into a tunnel under a docked iPad. When they pass under the tablet's camera (which is covered with a clip-on mirror), the augmented reality kicks in and the cars seemingly jump onto the screen. The race is on.
The car avatars then battle through eight different worlds Mario Kart-style as players boost their speed or thwart their opponent by tossing blue and red tokens onto the track ⏤ the camera reads them, as well, and uses the data to control the cars' actions. Certain tokens offer special powers and boosting them down the track. There's not a ton more to do than that, but players do have the option to race head-to-head or work together to win challenges in a co-op mode.
Admittedly, MindRacer is a slight deviation for Osmo, a company that traditionally focuses on learning games and whose most recent offering is a music-based programming game, Coding Jam. That said, they are quick to point out that kids ages 7-and-up will still learn "real-world dexterity, quick decision-making (hence the name), and sportsmanship."
The game costs $59 and comes with a two-track plastic launchpad, 32-speed discs, and six exclusive cars with names like Dragon Master, Purrfect Speed (it's a cat!), and Rocket Box. Players can race other Hot Wheels cars but a matching avatar won't show up on screen ⏤ it'll be something generic. There's also a $79 version which includes a stand-alone iPad dock that's compatible with other Osmo games.
One final, very cool note: MindRacers is the first Hot Wheels toy peddled to both genders. The box reads, "For boys and girls."
This article was originally published on