Barbie Maker Mattel Launches Awesome Gender-Neutral Creatable World Dolls
by Donna Freydkin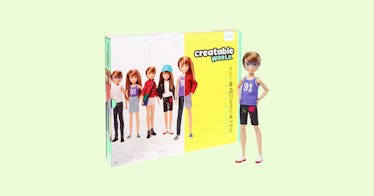 Barbie may feel as dated as stone-washed jeans, but the doll continues to be a massive revenue driver for parent company Mattel. And while Mattel has broadened the variety of Barbies available, including a Barbie in a wheelchair, it's still a doll that looks nothing like the kids playing with her. Kids, it turns out, want dolls that look real.
So it stands to reason that Mattel has launched Creatable World, a series of customizable and interchangeable gender-neutral dolls that have tween bodies that look somewhat like tween bodies, thigh gap be damned. Kids can dress the dolls in shorts or pants or dresses, swap out wigs, and play around with accessories.
The company says it worked with experts, parents, physicians and kids, to create the line. It consists of six different doll kits; the dolls have a variety of skin tones. Each kit includes one doll, two hairstyle options and multiple styling possibilities.
Even though she sells like crazy, Barbie has attracted her fair share of smackdowns. There was the brouhaha over the lack of diversity, which led to the release of non-white Barbies. But the largest kerfuffle was reserved for Barbie's body, and how it lacked any similarities to real-life physiques.
A Barbie has a 36 inch chest, an 18 inch waist, and 33 inch hips. In short, it's something not remotely attainable in the real world, unlike your plastic surgeon is your best friend. And parents leveled concerns that Barbie promoted an unhealthy body image in kids. In 2016, Mattel introduced a broader range of Barbie body types, for better or worse.
Which is why Creatable World dolls are something we can get behind.
Every product on Fatherly is independently selected by our editors, writers, and experts. If you click a link on our site and buy something, we may earn an affiliate commission.
This article was originally published on