Markybox Delivers A New Kid-Friendly Art Project To Your Door Every Month
by Dave Baldwin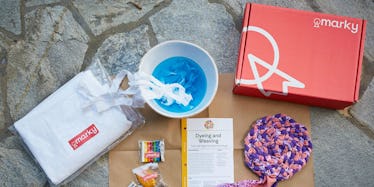 Don't let the thought of your kid moving home after art school in 18 years dissuade you from encouraging them to be creative now. (Hey, they could always go into graphic design.) Markybox is a subscription box that delivers new arts and crafts supplies to your door every month — black turtlenecks and clove cigarettes not included.
Not to be confused with the Marky Mark box (which is full of Funky Bunch cassettes and used Calvin Kleins), these kits go way past a few sheets of construction paper and some glitter. Recent boxes have included plaster molding, paper marbling, screen printing, tin screening, string art, papier mache, and fabric dying. Goodbye Brown, hello RISD.
Each box includes a single project that's been curated or designed by a "world-renowned contemporary artist" (like Will Farrell) and comes complete with instructions and all the supplies necessary for 2 people (age 4+) to get their hands dirty. Think of it as a little QT DIYing. The subscription runs $30 a month (plus shipping). If your kid is already using terms like "negative space" and hosts regular gallery showings in the den, you may want to consider the discounted 6- or 12-month plan.
Buy Now $30 per month + shipping
This article was originally published on