These Electronic Building Blocks Let Kids Turn LEGOs Into Robots
by Liz Newman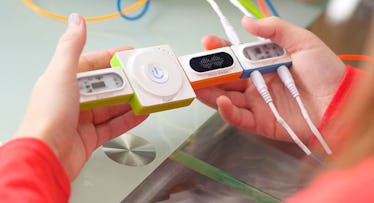 Maybe you're looking to hit the throttle on your kid's STEM education. Or maybe you just want to infuse some new life into your kid's Legos. In either case, Makeblock Neuron, a Lego-compatible system of electronic blocks, can be used to build such creations as joystick-controlled, motorized bulldozers and a voice-controlled planter that request water and smile when you give them the drip, all while building those oh-so-coveted coding skills.
Designed by the same dudes who launched Airblock DIY hovercraft drones, each of the four Makeblock kits ⏤ Explorer, Light Wizard, Science Lab, and All-in-One ⏤ come with 30 blocks. Each block has a specific super-high-tech function (gyro sensor, joystick, camera, motor, etc.) and can snap together with pogo pins or stuck to the fridge using magnetic backs. The kit includes project "Idea Cards" to get juices flowing and a variety of light sensors, knobs, tires, and other components.
That's all well and good, but likely nothing you haven't heard before. What separates Makeblock Neuron from others kits in the space is its voice and facial recognition capabilities. With some coding maneuvers, builders can snap Legos together that respond to their commands and expressions. What's more: Kids can build both online or off. Downloading the smartphone app, however, gives them access to more advanced FLOW-based programming options so they can do cool stuff like operate a dump truck.
Makeblock has already crushed its Kickstarter, but they're continuing to offer crazy price cuts for those who pre-order during the campaign.
(Available June 2017)
This article was originally published on