Make An Epic Connection With Mom This Mother's Day
The latest and greatest tech gifts and accessories for every kind of mother on your list.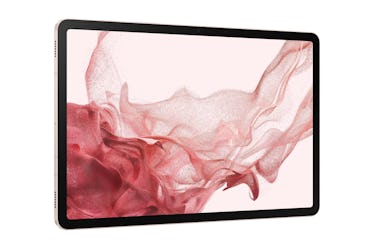 This article is sponsored by Samsung.
We all want to stay connected with Mom every day, but with Mother's Day fast approaching, what better way to let her know that she is in your thoughts than with a gift that will celebrate that connection organically? Today on Fatherly, we're sharing an epic gift guide that is sure to have something for every mom out there.
Scroll on to see the latest and greatest tech and tech-adjacent gifts for every kind of mother on your list — whether you're helping Mom stay creative or looking for something that will help the two of you stay in touch, no matter where you are in the world.
Samsung Galaxy S22+ is sure to bring a smile to Mom's face, especially considering that the latest version of the Galaxy comes in eight different available colorways and has the option of either 128 or 256 gb of storage, which is surely enough to capture all of Mom's videos using Samsung's Smooth Video feature. Never again will her videos suffer from out-of-focus shots, and the stunning display of the S22+ means that she won't have any problems viewing those photos you send her in the bright of day.
This handy mini photo printer from long-time favorite Kodak will let Mom keep those memories right by her side, as it can connect to her favorite Samsung device – be it a phone or tablet – via Bluetooth, allowing her to print photos instantly. The fact that it fits in the palm of her hand and weighs less than a pound is just the cherry on top; Mom will surely love the zero-ink technology and the bright, vibrant photos it produces.
With Active Noise Cancellation, three built-in mics, and three sizes of silicone tips for different ear types, the Buds2 will be sure to make Mom smile. Perfect for listening to music, audiobooks, podcasts, or just catching up with family, these earbuds feature two-way dynamic speakers that reproduce the highest of highs and the lowest of lows with crystal clear sound. Mom won't want to go anywhere without 'em!
If your mom is the active type, she'll be sure to appreciate Samsung Galaxy Watch4's Auto Fitness Tracking, along with real-time ECG monitoring and built-in sleep tracking. And the Watch4 comes with a host of customizable options, including the choice of five different bands (from sporty to elegant fabrics), six colorways, two different sizes, and the option to connect over Bluetooth and Wifi or Bluetooth/Wifi and 4G LTE. And given that the Watch4 can act as an extension of your phone, Mom will be able to talk, stream, and text all from the convenience of her wrist.
All that connecting with family and friends can leave Mom feeling a bit worn out, which is when this handy device from athlete-approved Hyperice comes in. The Vyper Go is meant to unlock those tight muscles that all moms deal with, and a lightweight, cordless design means moms everywhere can travel with it with ease.
If a tablet is more your mom's speed, it's hard to go wrong with the Tab S8, which features an 11" LCD screen and weighs in at just 1.10lb, making it the ultimate travel companion for those video chats with family. Add in the fact that the Tab S8 comes included with the S Pen that allows Mom to sketch or write notes freehand with ease, making the Tab S8 the perfect companion no matter what task is at hand.
Even more capable for all stripes of Mom out there is the Tab S8 Ultra. Compatible with the Book Cover Keyboard, the Tab S8 Ultra turns into a ready-to-go laptop-like powerhouse, so Mom can stay connected and get work done all at once. A 14.6 inch touchscreen and up to 16GB of RAM with up to 512GB of internal memory means that the Tab S8 Ultra is more than just a tablet for fun and games. And just like its smaller cousin, the S Pen works to let Mom use her own natural handwriting right on the screen.
*Device color options may vary. See carrier for details.