Review Roundup: Lorex Baby Sweet Peep
All the pros and cons before you enter your credit card info.
by Dave Baldwin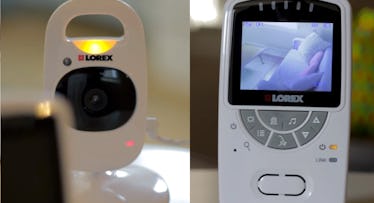 Looking for all of the Best Baby Gear of the Year, from jogging strollers to baby carriers? Click here.
This is the Lorex, it speaks for your kid. And thanks to the 2-way mic, it also speaks to them. The Baby Sweet Peep is a budget-friendly wireless video baby monitor from the security camera specialists at Lorex that boasts a long battery life, 2.4-inch color screen, and a slick pan-tilt-zoom. We named it the best value video monitor of the year, and we weren't alone. Here's what the reviewers said.
Pros:
The Sweet Peep has BGL's "Best Value" stamp, earning "its highest score for battery life and respectable scores for sound and video." For the reasonable price, it also offers "useful features like sound activation, a nightlight, lullabies, talk to baby, and digital zoom" that just happens to be cheaper than most of the other monitors that do this.
"One feature we really love is the range of motion on the camera," writes one Amazon reviewer. "Using the handset, you can move the camera almost 180 degrees on both the vertical and horizontal, virtually silently."
It boasts a long battery life (8 hours in full-use mode or 12 hours in audio-only) and "sports automatic screen sleep and wake features to help parents get to sleep faster in a darker room and see baby quicker upon waking," notes BGL.
It doesn't stream over Wi-Fi, so there's no fear of creepy strangers hacking into and leering at your child. As one user points out, "My wife was a stickler for not wanting a wireless product due to the history of hacking and this product has made her to happy." Hear that hackers? Try harder!
Cons:
Both BGL and reviewers on the Lorex site are quick to point out the Lorex's weak range — you simply can't take it very far. "My biggest issue with the monitor is the range," writes one reviewer. "Two rooms over I frequently get the out of range error which is very frustrating." Adds another: "The range of the monitor is also pretty limiting. It drops the signal fairly often and makes a beeping noise when it does which can be sleep-disturbing."
Too many goddamn buttons, and not clearly marked ones at that, frustrated more than a few Amazon customers (who are usually pretty irritable to start with). "It's too easy to accidentally hit the 'Play music' button on the handset," says one reviewer.
While BGL complains that "some of the features (like zoom) are buried in a menu system that requires multiple button pushes to get to, which is something that could be a challenge to parents in the middle of the night." Also a challenge to parents: Getting out of bed.
This article was originally published on