Loop Is A Voice-Controlled Digital Picture Frame And Video Phone
by Dave Baldwin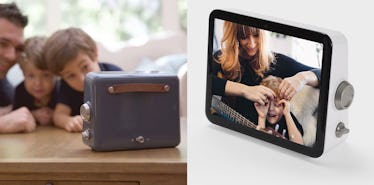 For anybody who wants their video call experience to be more Jetsons, and less FaceTime, there's Loop. Basically, it's a portable Wi-Fi and Bluetooth-enabled digital picture frame that resembles a retro TV … minus the rabbit ears. But how is this different or better from all those other handheld screens? For starters, Loop streams family photos and videos from all of your existing devices and social media accounts. It also has this attractive mid-century design, right down to two old-school channel knobs. And, it rocks a 10-inch high-resolution screen, integrated front camera, SD card reader, and 4-hour battery life. And, unlike your iPad, it doesn't require a single swipe. Now you can use voice commands and hand gestures to scroll through those first birthday party pics. Where's your screen, Google Home?
The real reason you'll want a Loop, versus a tablet and a dock, is it's easier to stay connected to anybody else who owns one. Give one to grandma. Your sister. The guy who mows the lawn. Once they're networked via the smartphone app, when you snap a picture (or shoot a video) of your toddler eating cat litter and hit send, it will instantly pop up on everybody's Loop screen. Oh no, your mom was eating dinner!
If your parents want to tell you to stop beaming gross-out pics into their kitchen, they don't even have to pick up their flip phone. They can just touch a button and video chat with any other Loop (or smartphone). Just note that Loop doesn't ship until February, but it is currently available for pre-order individually, or in discounted packs of 2 or 3 so you can finally make that Jetson's dream a reality.