Raising Rey: How littleBits Is Turning to 'Star Wars' to Encourage Girl Inventors
Inventing is good for everyone.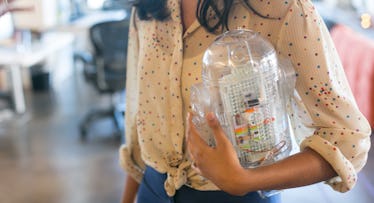 The following is sponsored by our friends at littleBits. With the littleBits Droid Inventor Kit, kids can create their own Droid and bring it to life using littleBits electronic blocks!
The offices of littleBits, the makers of color-coded, magnetic, electronic building block technology kits for kid inventors, appropriately look like a tinkerer's lair — a space fit for a Skywalker.
There are musical walls you can play as you pass, glass cases of the six-year-old company's early kits, a workshop lined with magnifying lenses, cans of epoxy, and, tucked in a back corner, a glass-walled room lined with more Droid parts than a Jakku junkyard. Piles of multicolored components known as "Bits," naturally, resembling a mixed bag of candy, repurposed takeout containers, and stacks of drawings cover the conference table.
It's here where a team of designers spent months in isolation designing littleBits' latest set, the Droid™ Inventor Kit, which allows kids to create and control their own custom R2 Unit. In other words, the thing your kid will definitely ask you for this holiday season. That's a good thing if you're looking to raise a STEAM kid (for "Science, Technology, Engineering, Art, and Math"), especially if you've got a daughter.
littleBits is guided by its founding mission to empower kids everywhere to become inventors, regardless of age, language, technical ability, or, most crucially, gender. It's why their Bits are candy-colored, not black and red or pastel pink and turquoise, and why all the parts in the Droid kit are clear — to encourage kids to make their Droid, well, theirs.
"Adults push a lot of assumptions on kids. It's adults who separate the blue aisle and the pink aisle. We even discussed whether partnering with Star Wars would seem biased towards boys," says littleBits Director of Product Design Krystal Persaud. "Yet when we test our kits with kids, girls play with them as intuitively as boys. We had girls hugging their Droid and carrying it around. Kids are extremely intelligent and we don't give them enough credit."
Maybe that's part of the reason why girls' interests in STEAM tend to drop around third or fourth grade. littleBits is doing its part to reverse that trend — upwards of 40 percent of their kid inventors are girls. Encouraging girls to invent is critical to designing solutions to the complex problems of the future.
"More diverse inventors bring a greater variety of experiences and perspectives. It's hard to design empathetically and genuinely consider the needs of a population of people if every engineer is the same," Persaud says.
Invention is, after all, a universal skill accessible to everyone. For kid inventors, one of those benefits is the acquisition of competencies that will be key to their success in a job market that has yet to be imagined.
"We follow career trends to try and understand the skills kids need to be successful as adults, recognizing that there are great careers today that we couldn't have predicted 20 or even 10 years ago," says Persaud. "Inventing helps kids of both genders build their critical thinking and creative problem-solving. So whenever they're ready to start a new career, they don't feel behind."
Inventing also exposes kids to failure, which Persaud says is key to building a "growth mindset," the idea that one's talents are not simply innate gifts but skills that can be cultivated and developed. Individuals with growth mindsets are said to be higher achievers. Inventing helps by knocking them down a few pegs first. "Invention is an iterative process. You rarely do anything right the first time, but every time you fail you succeeded in learning what didn't work," Persaud explains. "Unless you experience it firsthand, you don't feel the grit and motivation to learn from it, bounce back, and keep going."
If parents still need proof that they should invent with their kids, especially their daughters, they need look no further than Persaud herself. One of four girls, Persaud didn't play with tech and construction toys growing up. They simply weren't in her household. But she had a wild imagination. She invented stories, characters, and games with her sisters. She studied industrial design in college because it blended science with her love of art. When she graduated, she didn't have an extensive electronics background but wanted to design for education and applied for an internship at a fledgling company. Three months later, she was a full-time member of the founding team at littleBits.
"When we value play as adults, it shows kids that they can imagine crazy stuff and there's still a place for it when they grow up. Inventing helps you think. It helps you develop. It's not nonsense," she says.
"And by the way, I love Star Wars. Specifically Darth Vader. So please don't tell me Star Wars is just for boys."
Sounds like something Rey would say — if she weren't too busy re-engineering the Millennium Falcon's circuitry.
This article was originally published on